Imagine being immobilized and forcibly impregnated. That's the reality for female dolphins at SeaWorld, so celebrated actor and PETA honorary Board of Directors member Kate del Castillo is calling the company out.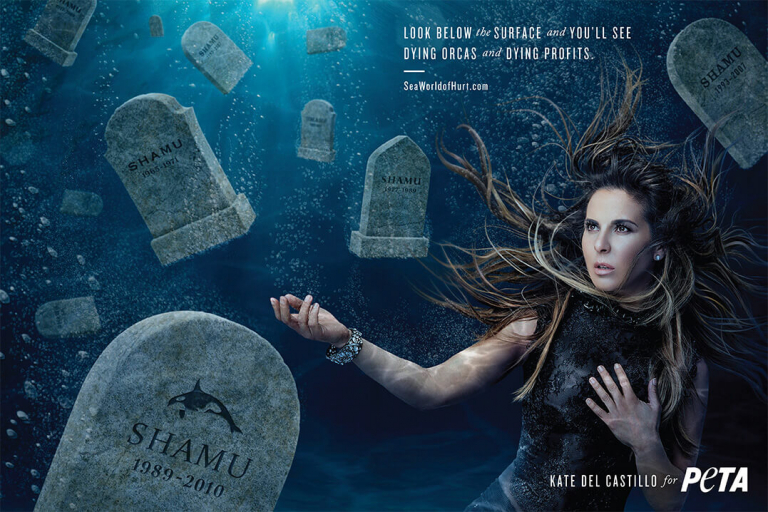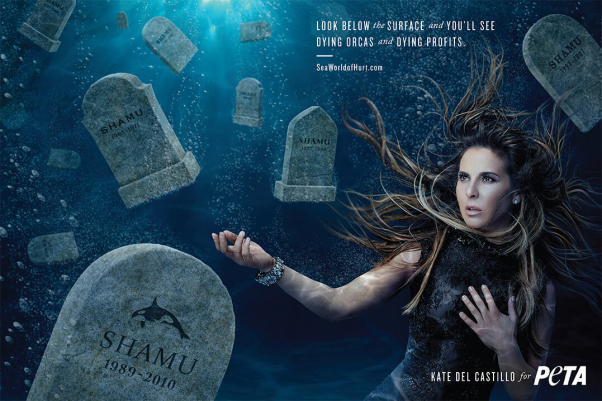 Photo: © Mike Ruiz
In nature, these intelligent animals would be swimming up to 60 miles a day with their family pods, exploring their vast ocean home, and maintaining close relationships within their dynamic social structures. At SeaWorld's abusement parks, 140 dolphins are packed together into just seven small tanks, where they suffer from the stress of years of intensive confinement. Incompatible dolphins have no way to escape from one another, resulting in fights and injuries.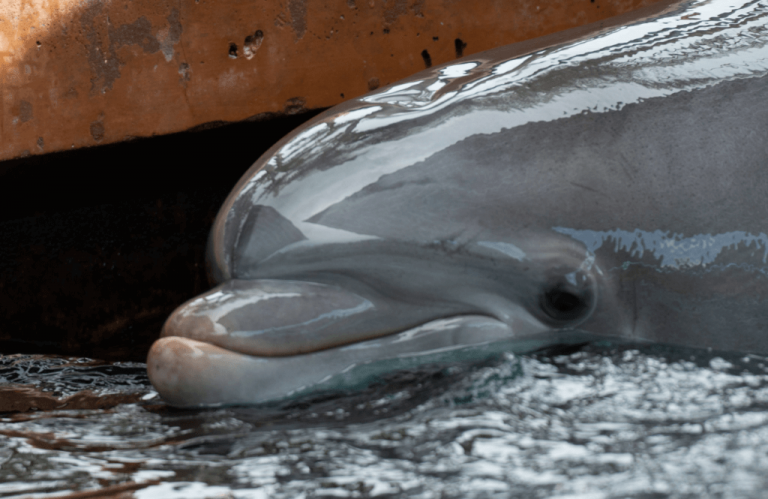 Unwilling female dolphins are torn out of the water and sometimes drugged so that they can't fight back while staff shove tubes filled with semen into their uteruses—all to force them to produce more animals who will spend their lives in deprivation and captivity. While SeaWorld agreed to stop breeding orcas after a long PETA campaign—making this generation the last that will languish in the park's tanks—the company has made no such promise for other dolphins and beluga whales.
So, at SeaWorld's annual meeting on June 11, Kate will ask the following:
"Over the past year, many people have gained a new understanding of what life may be like for animals imprisoned at SeaWorld parks, where lockdown never ends. … Rather than producing generation after generation of animals who will suffer in cramped tanks, SeaWorld could install cutting-edge forms of animal-free entertainment …. When will SeaWorld recognize that in order to survive, it must stop sexually abusing and forcibly impregnating dolphins and whales and instead transfer them to seaside sanctuaries?"
As people turn their backs on marine-animal parks, circuses, and elephant rides, they're making a strong statement that today's audiences prefer entertainment based on fun, exciting new technology—not tormented animals. SeaWorld could modernize its parks with animatronic dolphins, interactive digital aquariums, and thrilling new rides instead of clinging to an exploitative business model that's on its way out anyway. As the popular business adage goes, "Adapt or die." SeaWorld can take this opportunity to reinvent itself, or it can sink along with other animal-exploiting businesses.
PETA and compassionate businesses have offered to help plan, fund, and build seaside sanctuaries for the animals trapped at SeaWorld. Tell the company to stop breeding all dolphins and whales and release its marine prisoners to seaside sanctuaries without delay: