Never say never, Karl! Following decades of pressure, including lively protests from PETA entities worldwide, the Karl Lagerfeld brand—whose late founder stubbornly defended the gruesome killing of animals for fashion—has finally banned fur.
AM Retail Group (which operates Wilsons Leather, Karl Lagerfeld Paris, and other brands) and its parent company, G-III Apparel Group (whose brands include Andrew Marc), have also banned the material.
Indeed, we have a long, colorful history with the brand's founder, Karl Lagerfeld, who passed away less than a year ago. We stormed runways carrying banners and "bloody" fur coats. In 1995, PETA Senior Vice President Dan Mathews and talk show legend Ricki Lake took over Lagerfeld's office in a protest against his use of animal fur.
Ebet Roberts
We once parodied him as a dinosaur of fashion in a cartoon called "Furassic Park," and PETA entities worldwide held demonstrations at world-class fashion shows depicting him as the Grim Reaper. PETA Germany even sent him a birthday greeting that included urinal stickers of his face with the words "Fur Lagerfeld: Piss Off!"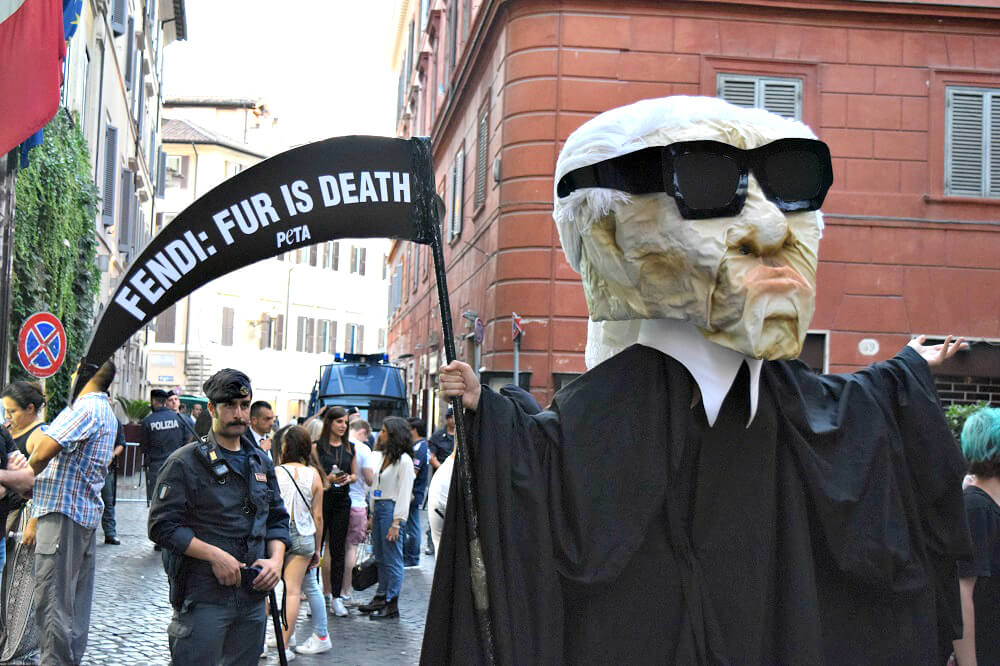 Lagerfeld was quite the opponent, but we refused to let old ways of thinking prevail over global animal liberation.
It's appalling that anyone would defend the agony and torment of living, feeling individuals.
Most animals used by the cruel fur industry spend their entire lives inside cramped cages, where they frantically pace back and forth, gnaw on the bars, and even mutilate themselves. Eventually, these terrified animals are violently killed—beaten, electrocuted, gassed, or even skinned alive.
Others are caught in steel-jaw traps—which slam shut on their legs, often cutting to the bone and causing excruciating pain and blood loss. Some animals may attempt to chew off their own legs to escape. If trapped animals don't die from blood loss, infection, or attacks from predators, trappers strangle, shoot, or stomp them to death.
The Karl Lagerfeld brand joins hundreds of other top retailers and designers—including, most recently, Macy's and Bloomingdale's as well as Burberry, Chanel, Gucci, Michael Kors, and Versace—in going fur-free.
PETA applauds these companies for their compassionate and business-savvy decision, which shows that fur is out and kindness is in.
Ethical shoppers simply don't want animals to be abused and killed for coats, collars, or cuffs, and these fur bans are proof that the fashion industry is changing to meet the rising demand for luxurious, animal-friendly alternatives.
Despite the obvious market changes, some companies (we're looking at you, Canada Goose) seem willing to die on this fur-covered hill.
But hey, we've been here before, with Karl Lagerfeld, which eventually came to its senses about not using animals for clothing. Help Canada Goose make its way toward the compassionate future by asking it to stop using dead-animal parts for its jackets.