Canadian outlets are reporting that a kangaroo at a petting zoo, kept for periods of time in an outdoor pen with inadequate shade and drinking water, began foaming at the mouth. A concerned passerby told reporters that he became aware of the kangaroo's condition when his 10-year-old sister began to cry after seeing the animal lying on the concrete in a cage with no protection from the sun.
The petting zoo, Tiger Paw Exotics, had been set up at a community street fair just north of Toronto. After seeing the distressing state that the kangaroo and other animals present seemed to be in, the concerned visitor reportedly got into an argument with the owner of the petting zoo, Tim Height, before calling local authorities to ask that they come to investigate the scene. The Ontario Society for the Prevention of Cruelty to Animals (OSPCA) instructed Height to add more shade for the animals on display and told the media that they were opening an investigation into the petting zoo. The street fair's organizers also relayed that Tiger Paw Exotics would not be asked to return next year because of public concern about the treatment of the animals owned by the company.
Aurora residents 'disgusted' over treatment of petting zoo kangaroo https://t.co/ilAq3jbU2s pic.twitter.com/riMboTaHKz

— CityNews Toronto (@CityNews) June 6, 2016
Animals in petting zoos are at risk of serious illness or death, and so are the humans who patronize them.
Petting zoos are bad news for animals and humans. They subject animals to the stress of transport, alien environments, irregular feeding and watering, mishandling, and crowds of strangers. Countless people have been sickened—and some have died—after contracting diseases from animals in petting zoos.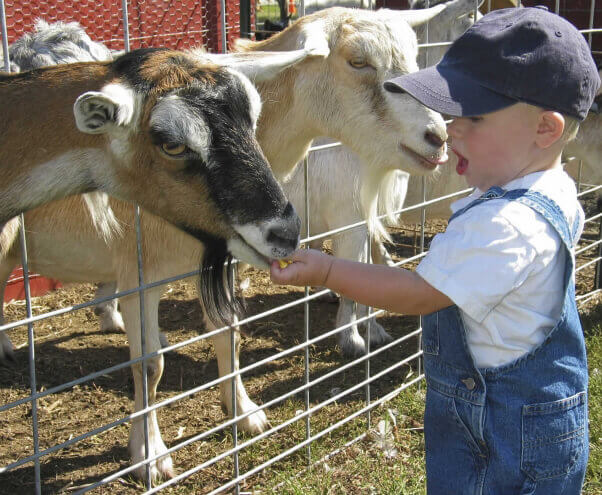 Children who visit petting zoos often go home with more than their parents bargained for. Health officials indicate that petting zoos are hotbeds of serious pathogens, including E. coli and salmonella bacteria. Experts warn that infections can spread through direct or even indirect animal contact. The area surrounding the animals' cages can be teeming with bacteria, and children can even carry pathogens home on their clothing. The very young, the elderly, and others with weakened immune systems are especially at risk.
Steer Clear of Exhibits That Endanger or Hurt Animals
Don't allow animal act promoters to pass off their exploitation of animals as entertainment or conservation. By educating others and showing that cruelty to animals is neither fun nor ethical, you can help stop it. Stay away from petting zoos and other animal attractions. Let kids experience and learn about animals in their own habitats—and from a safe distance—by taking a nature hike, going bird-watching, or viewing films about wildlife.
This kangaroo was just the latest victim of the petting zoo industry. Share this story with your family, friends, and social media followers. Let them know that petting zoos aren't cute and cuddly, they're a disaster waiting to happen.