Comedian, writer, star, and co-creator of Key & Peele Jordan Peele just made his directorial debut with Get Out, which is receiving overwhelmingly positive reviews. More than a simple horror movie with a comedic edge, the film is drawing attention for some interesting reasons.
Viewers and critics alike are discussing its various thoughtful layers and hidden meanings. One scene, in particular, which is being referred to as the "creepy milk scene," has started a dialog about—you guessed it—dairy products. Questions about the scene and its possible meaning(s) have Jordan (who does not drink dairy milk) talking about it.
"There's something kind of horrific about milk. Think about it! Think about what we're doing. Milk is kind of gross."
—Jordan Peele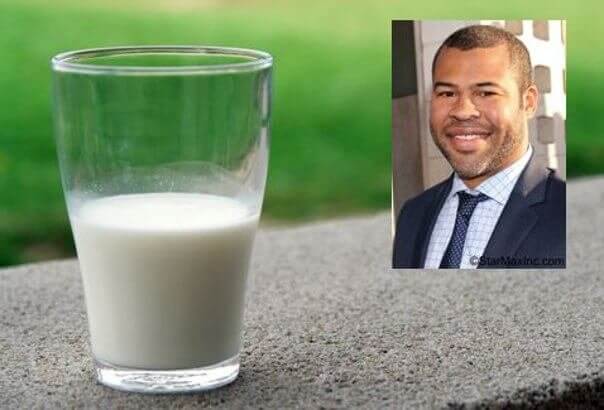 Most people don't even want to consider the "something horrific" about "what we're doing" that he refers to. But ignoring that cows and other animals are abused for milk won't make the cruelty any less real. Like all animal milk, cow's milk is meant for newborn babies of that species: calves. Humans are the only animals who drink the milk of another species and who drink milk beyond infancy. So just like Peele, we want you to "think about it." If milk from another species—a dog or cockroach, for example—induces nausea in you, the idea of consuming cow's milk should really sound just as sickening.
An ever-growing number of consumers' eyes are being opened to the cruel abuse and slaughter that cows endure when used for their body parts and excretions. The great news is that for every dairy product that exists—whether milk, cheese, yogurt, ice cream, or something else—there's a plant-based equivalent, and sales of those nondairy options are on the rise.
Maybe you've been thinking about a vegan lifestyle for a while but haven't known where to start.
With many delicious recipes to choose from and tips on dining out, PETA's vegan starter kit can help you make the switch.