As Norway and Canada prepare for a World Trade Organization hearing on their appeal of the European Union's ban on seal imports, rocker Joan Jett personally delivered an urgent letter on PETA's behalf to the Norwegian minister of foreign affairs calling on Norway to make the hearings and submissions public. Just one Norwegian company purchases 80 percent of the pelts from Canada's seal massacre, and this company has received funding from the Norwegian government for years.
Norwegians and kind people everywhere have the opportunity to weigh in on this issue by submitting comments to the WTO panel deciding the case, and I hope that they will join me in demanding that the government not allow Norway to be a partner in the largest commercial slaughter of marine mammals on the planet … For a country so compassionate that it would ban fur from fashion shows, supporting Canada's seal massacre just seems ridiculous.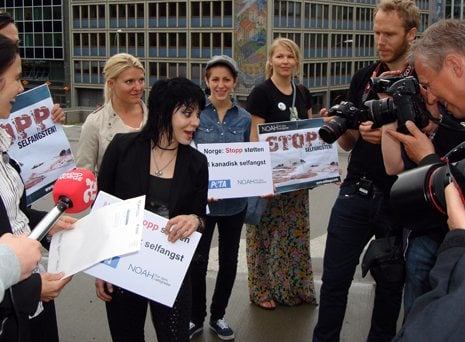 After leading a protest, hand-delivering her letter, and giving interviews to a slew of reporters, Jett gave each protestor an autographed CD.
Jett joins Canadians Pamela Anderson and Sarah McLachlan in requesting that the hearing and submissions be made public. If you have a heart for seals, jet on over to CanadasShame.com to help stop the slaughter.
Written by Michelle Kretzer