After hearing that Noel Gallagher expressed excitement about teaching his sons to "throw stuff at cows," Joan Jett called out the former Oasis frontman, stating:
"This guy is a putz! I am embarrassed he is Irish and from [the] same county as my grandparents on my father's side. Maybe if this bully wants to throw things, he should try throwing something at somebody who can fight back, like me."
We'll keep you updated on whether Gallagher decides to pick on somebody from his own species. Meanwhile, elsewhere in celebrityland, plenty of other stars are throwing their support at animals, including Alec Baldwin, who unveiled his new circus exposé for PETA at a news conference in New York City.
And Kellan Lutz revealed his PETA billboard in Los Angeles to his Twitter followers in a picture that's worthy of its own bedroom wall space.
In other vampire/werewolf news, PETA buddies Famke Janssen and Eli Roth are working together on Netflix's adaptation of the otherworldly novel Hemlock Grove. You can bet that this will be an animal-friendly set.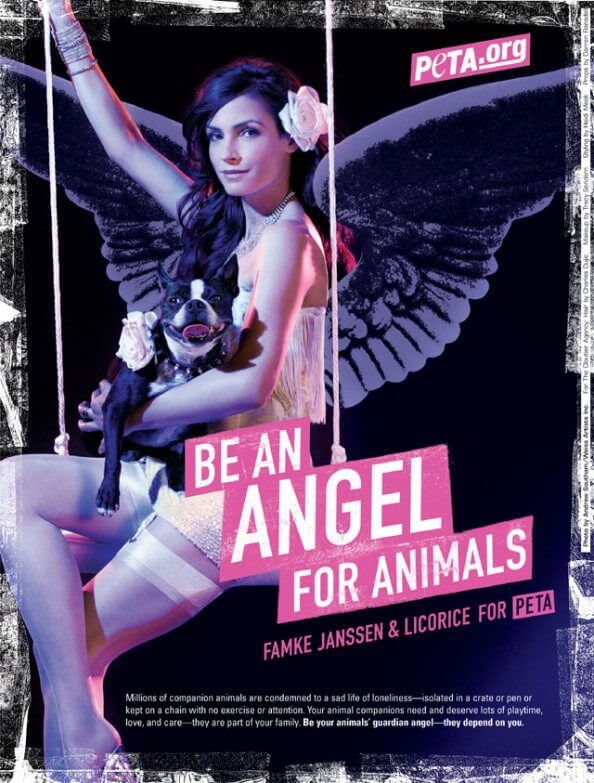 Photo by Andrew Southam/Weiss Artists Inc. For The Cloutier Agency: Hair by Charles Dujic Makeup by Tracy Sondern Styling by Heidi Meek Props by Darren Ransdell
And "animal-friendly" also describes the set that Ewan McGregor and Emily Blunt shared while making Salmon Fishing in the Yemen. Ewan told Conan O'Brien that his rescued dog Sid loved going to work with him, and he even attached a sidecar to his motorcycle for toting Sid along.
First dog Bo Obama is always right in the middle of his family's adventures. Michelle Obama told David Letterman, "He is my son. I have two girls and a boy."
Sophia Bush's US Weekly magazine list of "25 Things You Don't Know About Me" includes her rescued pit bulls Patch and Penny. Sophia has a huge heart for animals, and we hope all of her #LittleVoices join her in supporting animal adoption!
Here's something that you may not have known about Diane Keaton: In her new memoir, Then Again, she talks about being a vegetarian for the past 25 years. Join Diane in going vegetarian—order a free vegetarian/vegan starter kit here, and help save animals, protect the environment, and preserve your health.
Arizona Diamondbacks infielder Geoff Blum announced that he did a vegan cleanse that helped him drop 10 pounds and recover from knee surgery. We hope his vegan adventure continues, so we're sending him a copy of Vegan Bodybuilding & Fitness by Robert Cheeke for tips on how to stay fit for the field on a plant-based diet.
Keep up with the latest celebrity animal news by following @PETA on Twitter.