Holiday shoppers heading to luxury stores like Prada, Hermès, and Louis Vuitton are going to have a few unexpected eyes on them. At two of America's busiest malls, PETA is placing giant ads near high-end retailers showing customers exactly who they might be buying.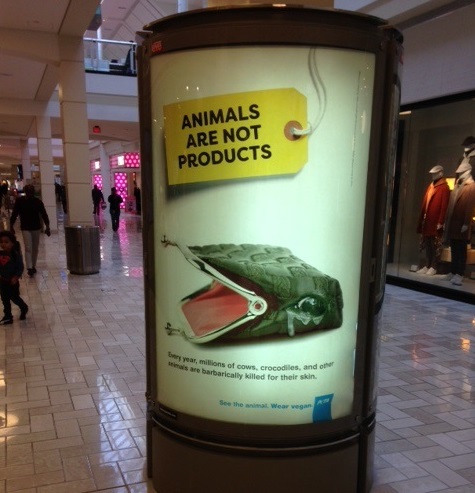 The ads are going up before Black Friday at Honolulu's Ala Moana Center and Tysons Corner Center in Tysons, Virginia, to make shoppers think about the fact that every day is "black" for animals who are farmed and killed for their skin.
PETA's exposés of the "luxury" leather industry have revealed that reptiles' necks are hacked open and metal rods are jammed through their spines while they're fully conscious. A recent PETA exposé of the world's largest leather processor showed workers branding calves on the face and electroshocking and beating cows and bulls. PETA has also exposed a thriving dog-leather industry in China, where workers club and peel the skin off of over 2 million dogs a year in order to make accessories that are intentionally mislabeled and exported around the world.
No matter where or who it comes from, leather is a product of violence. Please leave animal skins off your shopping list, and shop cruelty-free this holiday season.
And please use PETA's form to send a quick e-mail to Louis Vuitton's parent company, LVMH, and ask it to stop slaughtering alligators and crocodiles for handbags and wallets.