November is shaping up to be Kellan Lutz Month. First, we get to see him as Poseidon, god of the sea, in Immortals, and then as that other immortal, Emmett Cullen, in The Twilight Saga: Breaking Dawn—Part I. While we wait, let's enjoy a little Lutz lust with the PETA ad that he and his dog Kola did to encourage fans to find their eternal love at an animal shelter.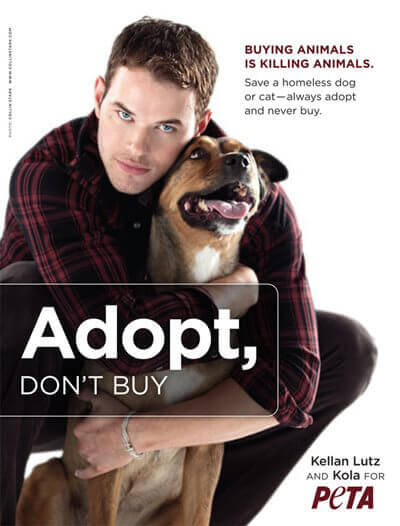 Photo: Colin Stark
And before he declared war on humanity as King Hyperion, fellow Immortals star Mickey Rourke and his canine buddy declared war on animal homelessness with an approach as easy as ABC: animal birth control. (Read more about Rourke and his canine companions in the paperback edition of Ingrid E. Newkirk's book One Can Make a Difference.)
Fellow Immortals stars Freida Pinto and Isabel Lucas have been doing kind things for animals, too: praising the use of computer-generated imagery to replace animals in entertainment and protesting Japanese whaling, respectively. Because even Greek gods and goddesses know that the kind acts that we perform can live forever.