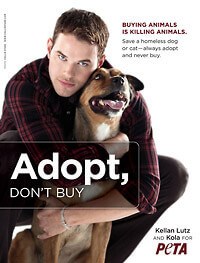 Smoldering Twilight star Kellan Lutz stars in a PETA ad with his adorable rescued mutt Kola to tell fans, "Adopt, Don't Buy." Every time someone purchases a dog or cat from a pet store or breeder, one fewer home is available for an animal desperately waiting in an animal shelter or roaming the streets.
Each year, more than 7 million dogs and cats are left at animal shelters in the U.S.—and nearly half of those must be euthanized because of a lack of good homes. Kellan explains, "It's our job to take [animals] under our wing and take care of them and give them a place to live."
Animals sold in pet shops often come from "puppy mills," where they are housed in cramped, filthy, and unhealthy conditions and lack proper veterinary care. And in light of the current animal overpopulation crisis, it's clear that there's no such thing as a responsible breeder. Kellan tells PETA, "Kola is my best friend." If you're thinking about bringing an animal into your home, be sure always to adopt and never to buy.