As we always do when a venue is slated to host a circus that uses animals, PETA reached out to Cross Creek Arena in Wingate, North Carolina, and shared information about documented abuse of animals used by the Garden Bros. Circus, set to perform there. We asked the arena to consider requesting an animal-free performance.
After reaching out a few times and receiving no response, PETA also set up an Action Alert on our site so that our supporters could contact the venue with their own polite requests that it allow the show to go on only without the animals.
And that was when the correspondence turned ugly.
Cross Creek Arena representative Jay Brown responded to PETA's professional, informative e-mails with profanity-laced threats of abuse and violence.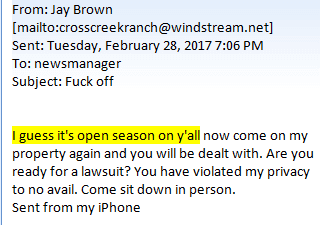 He also launched another offensive, responding to a PETA member with abusive language and hostility: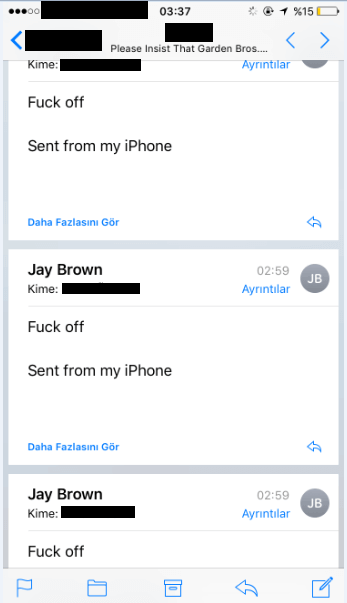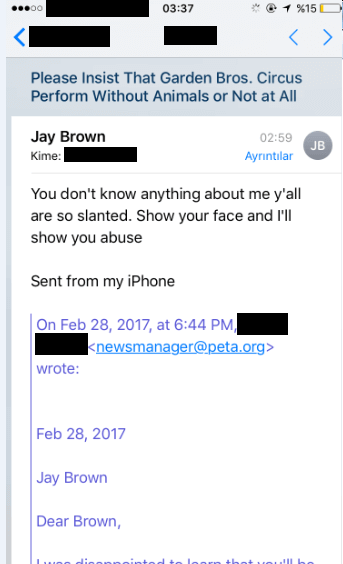 Garden Bros. Circus contracts with other exhibitors for its animal performances, including the notorious Carson & Barnes Circus, whose record of elephant abuse goes back decades. The head trainer was caught on video repeatedly whipping elephants with bullhooks and shocking them with electric prods until they screamed in pain. The trainer currently touring with Garden Bros. has also been filmed hurting an elephant with a bullhook and screaming profanities at her. The list of abuses goes on.
Naturally, PETA was unfazed by Brown's vitriol. When they go low, we go high.
What You Can Do
Numerous venues across the country have canceled cruel animal performances after hearing from PETA and our members. Please continue to send your polite correspondence to Cross Creek Arena requesting an animal-free performance. Industries that abuse animals know that their days are numbered, and this venue is resorting to sophomoric threats. But PETA and our members have never been scared away from speaking up for animals—and that won't change.