After he heard about the deadly experiments that the University of Wisconsin–Madison is performing on cats, Randall made a video against it that is so convincing that it could make even the honey badger care. 
Randall's buddy Bret Lockett of the New York Jets gave animals an awesome shout-out, too, during an interview with Integral Yoga Magazine:
I don't believe in torturing animals. I've been doing a lot of research and found out about a lot I didn't know, so I joined PETA's 'Ink, Not Mink' ad series urging others to show off their unique tattoos rather than wearing fur. Having played football in New England, where winters are harsh, I knew firsthand that there was no excuse—not even weather extremes—for wearing fur and that there are plenty of other fashionable, warm materials to wear that weren't made by harming animals. I challenged my fans to watch PETA's undercover video footage of fur farms, just like I did. I wanted everyone to know that, for every fur coat, collar or piece of trim, millions of foxes, minks, coyotes, rabbits and even cats and dogs were violently killed with wire nooses. Many of these animals are even skinned alive. The only way to combat this cruelty is by never buying or wearing fur or fur trim.
Bret would likely be pleased with Glamour UK's pick for the best-dressed celebrity: Fervently fur-free Kristen Stewart tops the magazine's list for the second year in a row.
And Perez Hilton graced us with a gallery of the best-undressed celebs: 30 of PETA's hottest nude anti-fur ads. 
In the same spirit, here's our gallery of the best celebrity tweets of the week: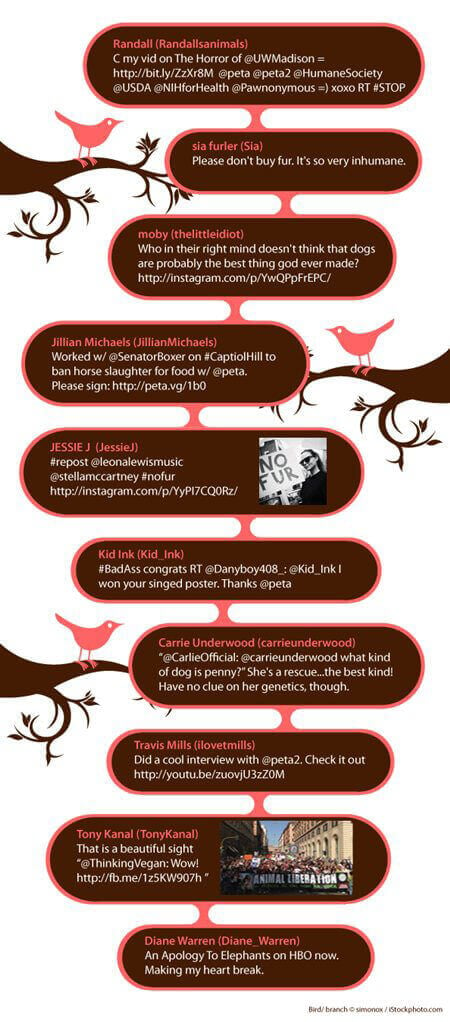 Pamela Anderson probably gets asked out via Twitter and other means every day. But she's offering to take a certain fellow out to dinner. Who's the lucky guy? Philippine President Benigno Aquino III. Pam wants to talk to the bachelor president about helping to get Mali, the 39-year-old ailing elephant who is alone in the Manila Zoo, transferred to a sanctuary in Thailand.
Fellow screen icon and animal rights campaigner Brigitte Bardot is making another man an offer he shouldn't refuse. Brigitte joined PETA UK's campaign to get British retailer Fortnum & Mason to stop selling vile foie gras, with a letter to the store's managing director, Ewan Venters, that said, in part, "Tradition is never an excuse for animal cruelty." 
You would probably never catch Vanessa Hudgens eating foie gras, but you would catch her grabbing lunch at North Hollywood's Lotus Vegan restaurant.
Where else can you catch your favorite celebs? Tweeting with PETA.