What could be better than a "Hello Kitty" wrap around an itty-bitty Smart fortwo car? How about something just as cute and enormously meaningful?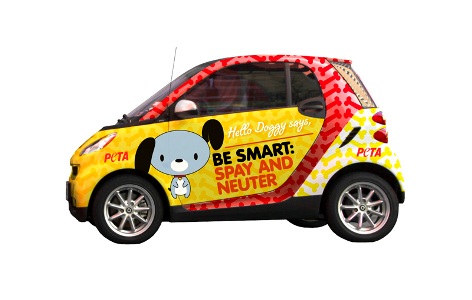 PETA has asked Smart USA to offer our "Hello Doggy" wrap alongside its own Hello Kitty wrap. That way, caring fortwo owners can help save lives by driving home the point that spaying and neutering dogs and cats helps curb the companion animal overpopulation crisis. Additionally, we've suggested that Smart USA donate all the proceeds from the Hello Doggy wraps—which would be offered in full and half sizes—to spay-and-neuter programs such as PETA's "Spay and Neuter Immediately, Please" (SNIP) mobile clinics, which perform hundreds of free and low-cost sterilizations every week in Southeastern Virginia.
As it stands, up to 8 million unwanted animals enter our nation's animal shelters every year, and approximately half of them are euthanized simply because there aren't enough good homes. Add to that the countless animals who are abandoned in the streets to starve and suffer from untreated illnesses or injuries from encounters with cars or cruel humans. Still more staggering statistics: Just one unaltered female dog and her offspring can produce 67,000 puppies in only six years. In seven years, one female cat and her offspring can produce 420,000 kittens.
The answer to saving so many lives can be quick, simple, and inexpensive (or even free)—and is as obvious as clicking a seatbelt. Please continue to spread the word that spaying and neutering can help save lives. We'll let you know if Smart USA compassionately—and smartly—joins our efforts.
Written by Karin Bennett