Earlier this week, following PETA's undercover investigation of a Myrtle Beach–area hoarding facility that had been warehousing hundreds of cats and an arthritic dog named Hope in storage units, roughly 240 cats and the dog were seized from Elizabeth Owen by order of a Horry County judge. Roughly half the cats who were seized were so ill that they had to be put out of their misery.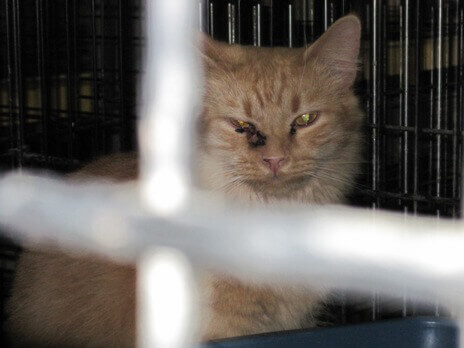 The cats had been "stored," some for most or all of their lives, in filthy, cramped cages, unable to get away from their own waste or even stretch or walk, let alone enjoy life. Dozens of cats were suffering from chronic, painful conditions such as anal maggots, herpes, tumors, seizures, multiple abdominal abscesses, severe gum disease, and more. Some people are criticizing county officials for euthanizing the sickest cats, but the real outrage is that these cats had been allowed to suffer and languish for so long with no quality of life whatsoever. If the cats were too far gone to save, it is because of the long-term neglect that Owen subjected them to—neglect that merits state-level cruelty-to-animals charges and a prohibition on obtaining any more animals. Hoarders are notorious for starting back up where they left off if such judicial measures aren't taken.
Unfortunately, after Owen's attorney told the judge that Hope and about 30 of the cats were Owen's "personal pets," the judge agreed to have them returned to Owen's custody, following a medical exam by the county's contract veterinarian. Hope, who is old and suffering from painful arthritis, is mostly kept in one of the storage units in a small pen and on a cold, hard cement floor or tethered outside in front of the warehouse. Owen has been ordered to provide the animals with veterinary care at her own expense, but it remains to be seen if she will do so. Owen couldn't manage to keep the facility stocked with litter or food, let alone take ailing and even dying animals for veterinary care or euthanasia. Her current registration to solicit charitable funds has been suspended by the Office of the Secretary of State, which means she cannot lawfully solicit donations or items to sell in her thrift store. If the medical condition of the 107 cats whom the county was forced to euthanize are any indication, the 30 animals who went back to that hellhole are doomed.
Not surprisingly, the 101 feline survivors who remain in the county's temporary shelter facility are also sick. The county is providing veterinary care for them, and PETA is hopeful that once they recover, they will find happiness with responsible families who will give them all the love, attention, and catnip they need and deserve.
Written by Daphna Nachminovitch