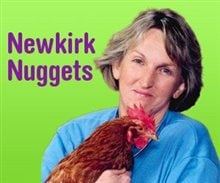 Every animal advocate has been faced with a challenging situation at some point, be it a question we aren't quite sure how to answer or even a person who is downright rude. In her 30 years at PETA's helm, President Ingrid E. Newkirk has faced them all, and she wanted to share her wisdom for maintaining grace under fire and still getting out important messages about cruelty to animals.
Ingrid has recorded a CD chock-full of helpful suggestions, Ingrid Newkirk on Activism, which is available for free on iTunes. For a quick preview, we've compiled some of our favorite "Newkirk Nuggets" on our website.
You can hear Ingrid's advice on feeling confident …
"Never be intimidated. After all, remember: You hold the ace in your pocket, and that is the strength of our moral argument."
… dealing with difficult people …
"If someone is a jerk to you, always try to be polite back, no matter how much you want to just punch them."
… and many other pearls of wisdom.
After you've listened to Ingrid's advice, let us know which nugget is your favorite, and share some of your own by leaving a comment below with your best suggestions for being an ambassador for animals.
Written by Michelle Sherrow