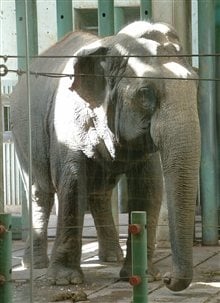 UPDATE: Represented by renowned attorney Clayton Ruby, PETA, Zoocheck Canada, and Tove Reece, president of the Edmonton-based Voice for Animals Humane Society, have asked the Supreme Court of Canada to allow a lawsuit against the city of Edmonton to force Lucy's transfer.
The following was originally posted September 8, 2011
Heartened by an Alberta Court of Appeal judge's lengthy dissenting opinion in favor of hearing our lawsuit regarding what we believe are abusive and illegal living conditions for Lucy, the lone elephant at Edmonton Valley Zoo, PETA and Zoocheck Canada will ask the Supreme Court of Canada to hear her case.  
In her opinion, which took up more than three-fourths of the entire ruling, Chief Justice Catherine Fraser wrote that PETA and Zoocheck Canada have shown "a prima facie case of the City's unlawful conduct vis-à-vis Lucy."
Lucy has been in solitary confinement for more than three years and, not surprisingly, is showing signs of "zoochosis," including pacing and repetitive swaying, that indicate severe psychological distress. She also suffers from arthritis, obesity, chronic foot ailments, and upper respiratory problems—all of which are aggravated by Edmonton's frigid climate and the fact that Lucy, who is native to Asia's tropical jungles, must spend most of the year confined to a barn. Recent zoo records indicate that Lucy is more obese than ever, despite supposedly getting more exercise during the summer.
Contrary to the zoo's claims, elephant experts consulted by PETA and Zoocheck Canada who have seen Lucy and her medical records say that there is no reason to believe that she cannot be moved safely to a sanctuary in a more temperate climate. Indeed, they say that her health will continue to decline if she is not moved.
You can help by sending a polite e-mail to the Edmonton City Council asking members to free Lucy before she has to face yet another winter confined to a dark, depressing barn.
Written by Alisa Mullins