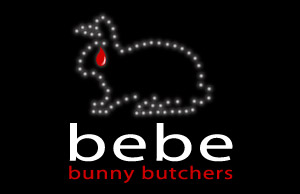 Bebe's recent announcement that it is going fur-free is nothing short of a cheap media stunt, since they're still planning to sell the skins of tortured bunnies through the winter. For the past year, we've been negotiating with the clothing retailer to pull the fur from their shelves, and today, in a clear attempt to stop a forthcoming boycott campaign, the company sent out a news release that they must have hoped would ward off protests. Unfortunately, while it's a step, it doesn't go far enough.
The rabbits killed to be made into cuffs and collars for bebe spend their entire lives in tiny, filthy cages, and die gruesome deaths at the hands of fur farmers, who break their necks or smash their skulls—more concerned about preserving the pelt than they are about the welfare of these tortured animals.
All of bebe's competitors have stopped selling fur including Ann Taylor, Charlotte Russe, Donna Karen, Express, Gap, H&M, J. Crew, Jones Apparel, Polo Ralph Lauren, Talbots, Tommy Hilfiger, Urban Outfitters, Wet Seal, Zara, and more. Plenty of choices for shopping this holiday season!
Please click here to contact bebe and ask that they pull the fur from their shelves immediately. Even one more day of bebe selling rabbit fur is too long.