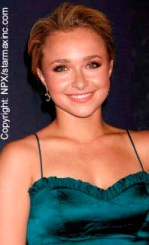 Hayden Panettiere (the star of NBC's Heroes), was so outraged about the hideous dolphin cull taking place in Japan right now that she went out herself to try and put a stop to it. Along with five of her friends, Hayden paddled out on a surfboard in an attempt to stop a pod of dolphins from reaching a cove where the Japanese fishermen were waiting to slaughter them, but was violently deterred by the men on the fishing boats, who used hooks and the boats' propellers to stop her from reaching the animals. Here's what she said about the situation:
"Some of us were hit by the boathook. But in the end all we really worried about was the dolphins. It was so incredibly sad. We were so close to them and they were sky hopping, jumping out of the water to see us. One little baby dolphin stuck his head out and kinda looked at me and the thought that it's no longer with us is really hard to take."
PETA is sending her a Compassionate Citizen award for her incredible bravery and her dedication to helping animals in need. I hate to have to use the obvious pun here, but you're a hero, Hayden. Keep up the great work.
There's more on this story, as well as footage of the horrific dolphin slaughter, on Sky News.