Officials responding to a complaint about the smell of decaying animals at Florida's Ebro Greyhound Park found 33 dead and decomposing dogs who had apparently starved to death as well as four more dogs who were near death. Racer Ronald Williams was arrested and charged with 37 counts of felony cruelty to animals in connection with what the county sheriff says is one of the most disturbing cases of animal abuse his department has ever investigated. Williams had apparently abandoned the dogs to die when the racing season ended.
Greyhounds want nothing more than to snuggle on the couch and be part of a family, but those used in racing live in cramped cages and are muzzled most of the time. Illnesses and injuries—including broken legs, heatstroke, and heart attacks—claim the lives of many dogs. When they're too old or slow to continue, greyhounds are thrown away like garbage.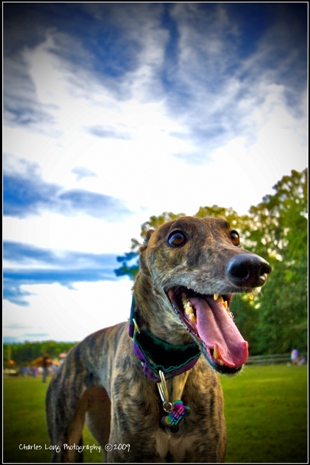 PETA Foundation staffer Natalie Hawkins' rescued greyhound, Lily, is one of the lucky ones who escaped the racing industry with her life.
But thanks to the efforts of PETA and other animal rights groups, 25 tracks have closed in the U.S. alone since 2001, and Barbados, Guam, Haiti, and Indonesia have all shuttered their tracks. PETA Asia is fighting hard to keep greyhound racing out of the Philippines.
Please share this story on Facebook with all your friends, and help spread the word about this cruel industry.
Written by Jennifer O'Connor