The winds picked up in Hampton Roads early Saturday morning, with gusts that shook trees and water pooling in low-lying areas. Forecasters are now saying that tonight will bring the worst, as the brunt of the storm will hit at high tide. Already, a couple with a cat who thought that they could ride out the storm in their sailboat, had to be pulled out of the water by marine police. Miraculously, the cat survived. 
Our first emergency pager call came from a sharp-eyed Good Samaritan who had somehow spotted this little tyke tied to a backyard grill so tightly with a shoe string that she had to keep on her feet or she would strangle. Yes, she couldn't lie down, and she had been left that way all night long. She was in a flood plain that had been evacuated, so there was no one anywhere in sight and the rains were bucketing down. We took her to our headquarters, dried her off, gave her a good meal, and she is currently in foster care.  She's about 10 weeks old. What an introduction to human nature.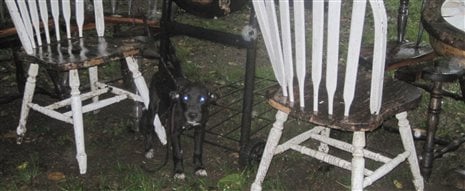 The worst is yet to come, but our Community Animal Project and other PETA staffers are out there, responding to emergency calls, and we'll keep you updated. If you know people in the path of the hurricane, please urge, plead, cajole, and demand that they bring their animals indoors and take their animals with them if they evacuate. Thank you.
Written by Ingrid E. Newkirk