UPDATE: According to reports, authorities in Arkansas are now standing guard over 14 big cats who were discovered sitting in cramped metal cages near a barn in rural Arkansas over the weekend. PETA believes these lions, tigers, and one leopard are the surviving members of a shoddy transport operation that, last week, left a tiger dead in a Georgia neighborhood. She was shot by law-enforcement officers after escaping from a truck moving the animals on behalf of Alexander Lacey, a former trainer with Ringling Bros. and Barnum & Bailey Circus, which was operated by Feld Entertainment. The big cats await shipment to Tennessee, from which they're scheduled to be flown to Germany. The U.S. Fish and Wildlife Service (FWS) set this tragic story in motion when it granted Feld permission to export these animals to Europe.
UPDATED: Authorities find lions, tigers, leopard at Arkansas workshop. Story + photos » https://t.co/ZFIeo9HDnb #ArkDG #ARnews pic.twitter.com/4lg8RfpPeZ

— AR Democrat-Gazette (@ArkansasOnline) September 11, 2017
These cats have likely been continuously confined to these transport cages since Tuesday, September 5. Even though Ringling has closed, those affiliated with Feld continue to take pages from the same cruel playbook. Circuses routinely cart animals from town to town in barren cages that deprive them of opportunities to fulfill their basic needs to exercise, roam, socialize, forage, and play. Many big cats are forced to eat, drink, sleep, defecate, and urinate in the same place. As a result of captivity, many suffer from physical health problems, while others suffer psychologically. The stressful, unnatural environment can cause some to pace back and forth repeatedly or even mutilate themselves.
PETA renews its call for the FWS to suspend and revoke Feld's permit to export these cats to Germany. You can join us by contacting the agency at [email protected].
Originally posted September 7, 2017:
A female tiger discovered roaming loose was shot and killed by law-enforcement officials after she was found attacking a dog in a neighborhood in Henry County, Georgia, outside Atlanta. According to reports, the tiger, named Suzy, escaped from Feld Entertainment (the parent company of the now-closed Ringling Bros. and Barnum & Bailey Circus) while being transported from Florida to Tennessee, where she was set to be flown to Germany for use in circus shows there. This completely avoidable and tragic death leaves blood not only on the hands on Feld Entertainment—who carelessly lost the tiger during transport and apparently didn't realize that she was even missing until the media began reporting on the fatal incident—but also on those of the U.S. Fish and Wildlife Service (FWS). The FWS greenlit Feld's export of multiple big cats, including Suzy, under dubious circumstances—despite being presented with a mountain of both legal and ethical reasons not to do so by PETA, other animal rights groups, 24 members of Congress, and thousands of concerned members of the public.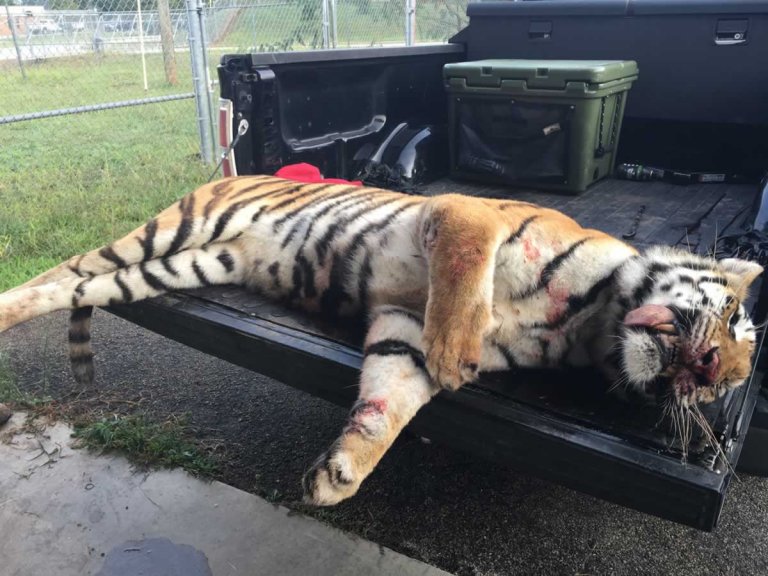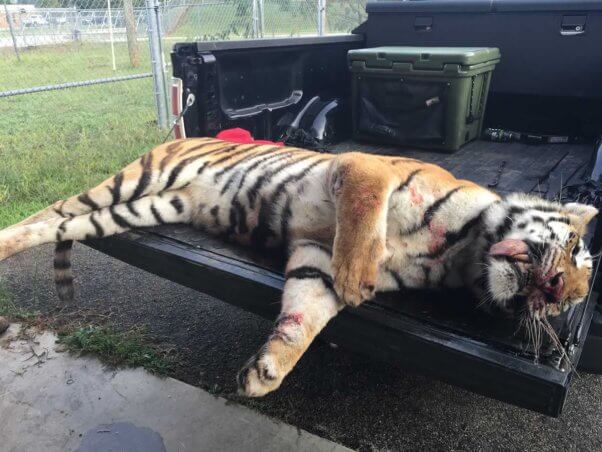 In nature, tigers have home ranges of hundreds of miles, in which they roam, swim, choose their mates, and raise their young. Confining them to cramped cages and hauling them around in trucks denies them everything that's natural and important to them, and big cats kept by Feld and Ringling have been known to lash out in frustration and escape, and others have died in situations of extreme suffering.
Previously, a tiger escaped from a cage in a Chicago parking lot and attacked a Ringling handler. The handler was hospitalized in serious condition with bite wounds to his neck and side.
The U.S. Department of Agriculture (USDA) issued a warning after Ringling trainer Graham Chipperfield shot a Bengal tiger named Arnie five times with a 12-gauge shotgun while the animal was locked in a cage—this barbaric killing occurred after Arnie attacked Chipperfield's brother, Richard, during a photo shoot.
The USDA also launched a formal investigation into the death of a 2-year-old lion named Clyde. According to former Ringling lion handler Frank Hagan, Clyde died while traveling through the intense heat of the Mojave Desert in a poorly ventilated boxcar without being checked on or given water. He's believed to have died from heatstroke and dehydration.
Ringling gave away five tigers to New Jersey resident Joan Byron-Marasek, who owned a poorly maintained private menagerie. One of the tigers killed four others at the facility. Byron-Marasek had been charged by the USDA with failing to provide tigers with adequate veterinary care and failing to maintain programs of disease control and prevention for them, and state officials found conditions at the compound to be dangerous, severely crowded, and unhealthy.
These, in addition to Suzy's death, are just a few examples of Feld's long history of failing big cats.
Loose tiger shot dead in suburban Atlanta; investigators trying to find where it came from https://t.co/aB6REA6mJj

— JennaJayy (Kimberlyn Rayne) (@JennaJayy17) September 6, 2017
The U.S. Fish and Wildlife Service Set the Scene for This Tragedy.
Just weeks after announcing that Ringling Bros. would be closing, Feld Entertainment applied to the FWS for an Endangered Species Act (ESA) permit to export eight tigers, six lions, and a leopard "owned" by trainer Alexander Lacey to Germany so that he could continue to exploit them in a circus.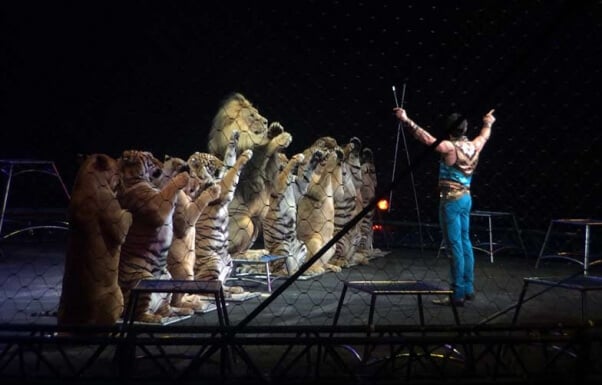 The ESA is designed to protect imperiled animals from exploitation, and exceptions are allowed only if permit applicants demonstrate that their activities will enhance the survival of the species. Feld Entertainment has repeatedly proved its inability to transport and care for big cats properly and safely. The ESA prohibits any activities that harass, harm, wound, or kill endangered animals. The FWS issued this permit to Ringling, despite recognizing that "maintaining animals in inadequate unsafe or unsanitary conditions, feeding an improper diet, and physical mistreatment constitute harassment because such conditions might create the likelihood of injury or sickness of an animal."
The FWS spat on the federal Endangered Species Act when it granted a permit allowing Lacey to squeeze some final dollars out of these already exploited animals by shipping them to Germany. Maintaining animals in "humane and healthful conditions" is an ESA permit requirement that Feld is incapable of meeting, as evidenced by its 150+ Animal Welfare Act violations and the examples referenced above. The export permit must be revoked before any more of these big cats suffer or lose their lives.
Make Your Voice Heard—Speak Up for Big Cats Exploited by Feld Entertainment
Despite this tragedy, the remaining big cats being shipped by Feld to Germany with the blessing of the FWS are still in limbo. Once in Europe, they'll be forced to perform under the constant threat of being whipped and prodded. When they're not performing, these cats—who are naturally far-ranging, fast-moving predators—will be confined to barren, cramped steel cages in which they'll pace back and forth out of frustration and stress.
These big cats must be retired to a reputable sanctuary here in the U.S. that would provide them with complex, naturalistic environments and never force them to perform cheap tricks for human amusement.
You can join us in urging the FWS to suspend and revoke Feld's export permit by contacting the agency at [email protected].