Despite having been fined tens of thousands of dollars, tiger handler Doug Terranova continued to scoff at the law. Under his watch, Leah the tiger escaped from a circus enclosure and Kamba the elephant was hit by a car—and he risked public safety on numerous other occasions.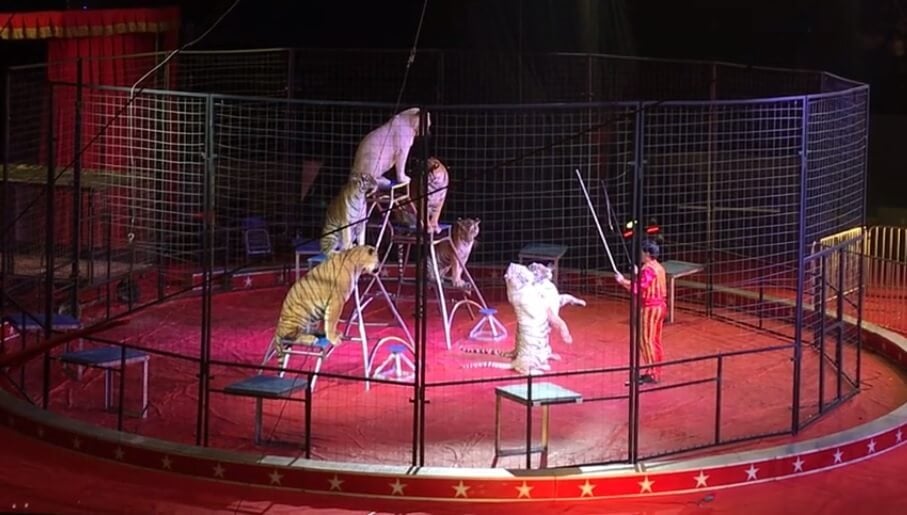 The U.S. Department of Agriculture (USDA), fed up with this obvious pattern of animal welfare violations, ended Terranova's infamous legacy. With him out, only nine licensed exhibitors heartless enough to exploit big cats in circuses remain in the U.S.
In 2016, an administrative law judge suspended Terranova's license for 30 days and assessed penalties of $21,500 for violations of the federal Animal Welfare Act (AWA) and for failing to obey a previous cease and desist order. The decision stemmed from a 2013 incident in which a woman came face to face with a tiger in a public bathroom after the animal escaped from trainers at a Shrine circus.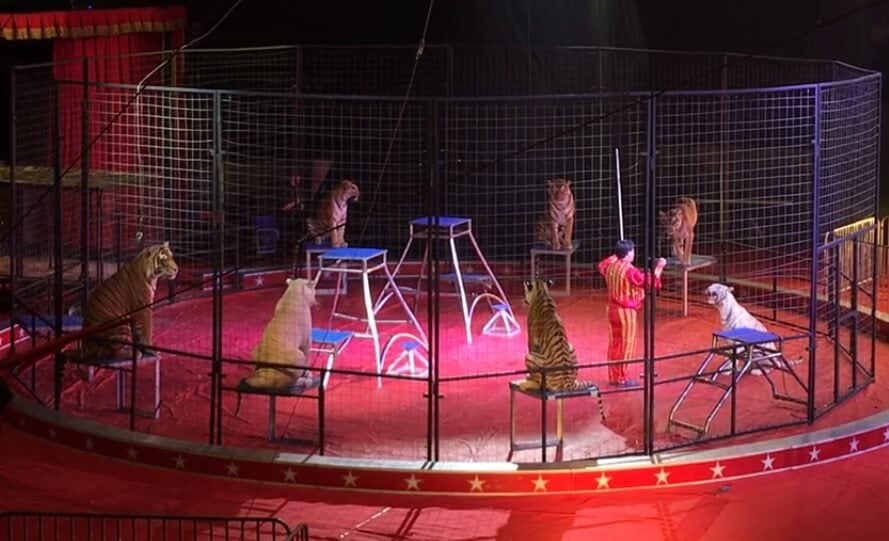 However, given Terranova's long history of violating the AWA, a USDA judicial officer reversed the judge's decision—a suspension was not enough. The agency's overriding order has resulted in the permanent revocation of Terranova's license. He and his company are also required to pay a total of $64,700 in civil penalties related to violations and failure to obey the previous cease and desist order.
The judge presiding over the case noted that Terranova's "willful, repeated, and prolonged violations" of the law "to the detriment of animal health and safety to the public" show that he is "not qualified to be licensed."
PETA has been monitoring Terranova—who supplied animals to circuses and fairs—for years and has submitted multiple complaints about his careless handling of tigers and elephants.
PETA will never stop defending these animals until every circus cage is empty.
The nine remaining exhibitors who use big cats in circuses should know that history is on our side and that their time of abusing animals for profit is up.
https://twitter.com/peta/status/1109253173766545408
No tiger willingly jumps through hoops of fire or stands stock-still on a pillar in front of a loud, roaring crowd. The animals do these things only after trainers beat, whip, and prod them into submission. Tigers and other big cats used by circuses for a few fleeting moments of human entertainment will never know what it's like to go for a swim in a watering hole or roam through a forest. They'll never raise cubs or live in the wild. Instead, they're reduced to performing stupid tricks night after night after night.
With Your Help, We Can End All Animal Circus Acts
Speak up for all animals being exploited for entertainment in circus shows. Using the form below, you can urge multiple circuses (and the venues that host them) to stop exploiting bears, tigers, and other animals. Appeal to them to do the right thing by featuring only talented and willing human performers: