Update: In 2015, following pressure from PETA and other animal advocates, the National Institutes of Health (NIH) promised to retire all federally owned chimpanzees to sanctuaries. Sadly, since this announcement, few have been retired and many have died while waiting. Please urge NIH to retire these animals now!
Originally posted January 22, 2013:
For decades, PETA has been calling for an end to the cruel and irrelevant use of chimpanzees in experimentation. We've made significant progress over the years bring an end to this national disgrace, and now the government is finally taking concrete steps to do the same.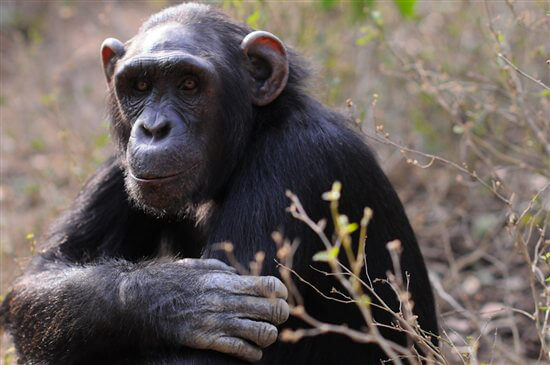 © Jo-Anne McArthur / We Animals
An Historic Decision
At a historic meeting this afternoon, a National Institutes of Health (NIH) committee recommended that the agency cut funding for seven of the nine current taxpayer-funded grants for biomedical experiments on chimpanzees and fully or partially cut funding for 12 of 13 behavioral studies. With regard to the fate of these 360 NIH-owned chimpanzees, the committee stated that "the majority of NIH-owned chimpanzees should be designated for retirement and transferred to the federal sanctuary system. Planning should start immediately …."
The NIH's momentous move follows the landmark 2011 finding of the Institute of Medicine (IOM) that "most current biomedical research use of chimpanzees is not necessary." After the report's release, the NIH formed a committee to determine, among other things, which taxpayer-funded projects should be ended and how many chimpanzees should be retired.
Persistence Pays Off
PETA submitted recommendations calling for a complete end to experimentation on chimpanzees to both IOM and NIH during these deliberations—and that's just one part of the extensive groundwork that led to this exciting development. Every step of the way, PETA has relentlessly pursued any and all avenues to uncover abuse to chimpanzees in laboratories and has advocated for the creation of stronger federal policy and legislation to protect chimpanzees from being tormented in experiments. 
PETA has exposed cruelty in laboratories, filed complaints against laboratories that experiment on chimpanzees, reached out to Members of Congress, organized demonstrations, gained celebrity support, filed shareholder resolutions, launched online advocacy campaigns, and called for an end to this barbaric practice in popular and academic publications.