The night of February 2 marked the final vigil at Farmer John slaughterhouse in Vernon, California to honor the memory of the millions of pigs murdered there. PETA supporters—including Joaquin Phoenix—and other activists have campaigned for Farmer John's shutdown for years in light of the horrific conditions pigs faced at the Smithfield-owned murder plant. The vigils have been held biweekly since 2017, and pig-defenders gathered there to protest against injustice and offer exhausted, dehydrated pigs water in the transport trucks.
In spite of the long, dangerous journeys in extreme temperatures without food or water on crowded transport trucks endured by the estimated thousands of pigs there who workers killed every single day. Farmer John slaughterhouse was covered in pastoral images of happy pigs in vast, luscious fields of grass. But never in their entire lives did the pigs killed in this hellhole get to see, smell, or stand on grass. It was an insult to the miserable existence forced upon them, and PETA wouldn't stand for it: We hacked their murals with stickers that encouraged public attention instead of the apathy Smithfield hoped to invite.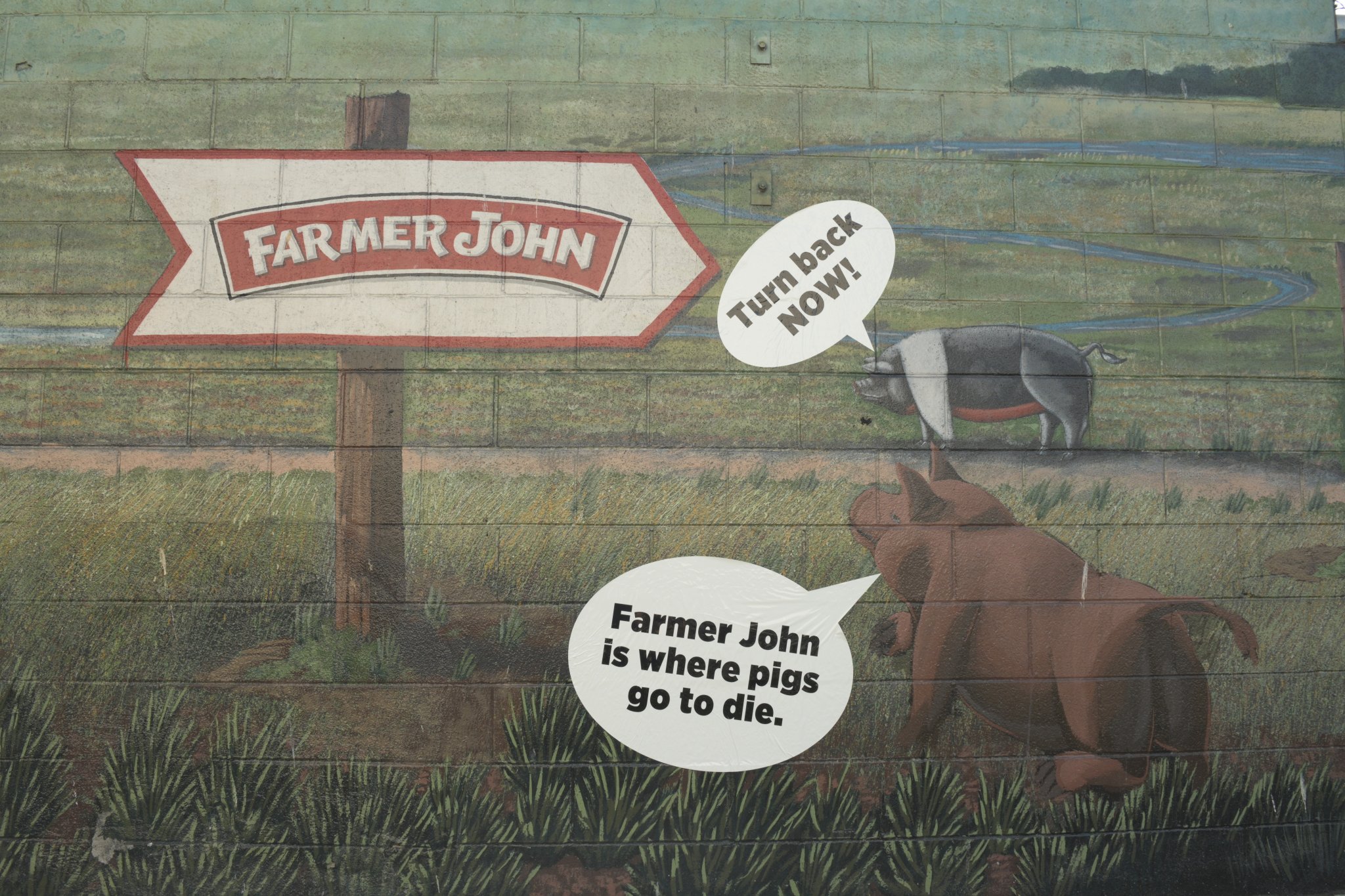 Students Opposing Speciesism, a PETA-backed youth-led organization, stuck up for pigs' rights, too: They surrounded the slaughterhouse to challenge cruelty to pigs and other animals killed for food. During the COVID-19 pandemic, Farmer John seemed to get worse and worse. It remained a filthy killing operation trafficking in exhausted travel-weary pigs, and it even earned the dishonors of a coronavirus safety fine from the California Division of Occupational Safety and Health. Secured in places by 10-foot walls topped with razor wire, the facility looked like a prison.
Take Action for Pigs!
Pigs are social, playful, protective animals who bond with each other, make nests, relax in the sun, and cool off in the mud. They're known to dream, recognize their own names, and even show empathy for other pigs who are distressed. Just like humans, some love to cuddle, while others prefer their own space.
With Farmer John closing, there's one less horror story to worry about. But there are still many heinous injustices done to pigs. Please take a moment to help defend them.