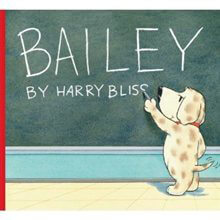 When award-winning New Yorker cartoonist and longtime PETA pal Harry Bliss sits down to write a children's book about a day at school with a lovable mutt named Bailey, you know it'll be a big hit with kids. But with Bliss' talent for satire, even adults will enjoy a chuckle or two.
Dedicated to PETA president Ingrid E. Newkirk, Bailey makes it clear that although kids may prefer to read books—while Bailey prefers to chew them—both kids and dogs have specific needs and deserve respect and kindness.
Bliss has often used his genius to create original artwork specifically to help animals, including his remarkable life-size baby elephant sculpture, Ella PhantzPeril, which he designed for PETA's campaign against animal circuses, and his crippled chicken statue for PETA's Kentucky Fried Cruelty campaign. Bliss has also created wonderful thought-provoking covers for PETA's Animal Times magazine. 
One of the funniest parts of the book is a play on the age-old excuse for not turning in homework—the dog ate it. But in Bailey's case, he really does eat his homework. And in the time-honored tradition of trading lunches in the cafeteria, Bailey tries to barter his beloved and well-chewed bone for a little girl's sandwich.
Bailey is replete with touching and beautifully drawn anecdotes that will bring smiles to the faces of kids and adults alike.
Written by Joe Taksel