Snubs by Missouri cities have PETA's "Ella PhantzPeril" statue singing the blues.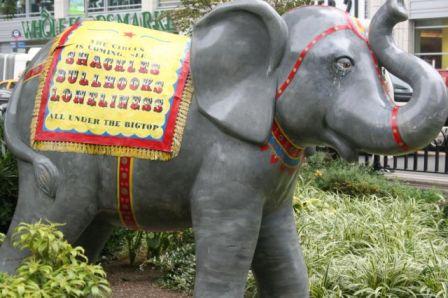 Poor Ella PhantzPeril. Everywhere she tries to go, she gets a chilly reception, even though she is drop-dead gorgeous and was designed by renowned New Yorker cover artist Harry Bliss.
First, Kansas City gave her the cold shoulder when we tried to arrange for her to take up residence in a city park for a month to coincide with a visit from Ringling Bros. and Barnum & Bailey Circus. The city banished her because of her "political" message. Now, St. Louis has said she is unwelcome because she is an "advertisement."
Since all we want to do is remind the public about the abuse that elephants endure while constantly traveling and performing in circuses, separated from their families and their natural environment, we are crying "foul."
We say that both rejections sound an awful lot like infringements on free speech, and we're not taking them lying down.
Keep checking back, and we'll be sure to let you know when Ella finds a home.
Written by Alisa Mullins