PETA and animals everywhere have lost a dear friend. Dr. Thomas Poulton, a kind and gifted physician, military veteran, and professor as well as an outspoken critic of cruel animal experiments, recently passed away after enduring multiple system atrophy for years.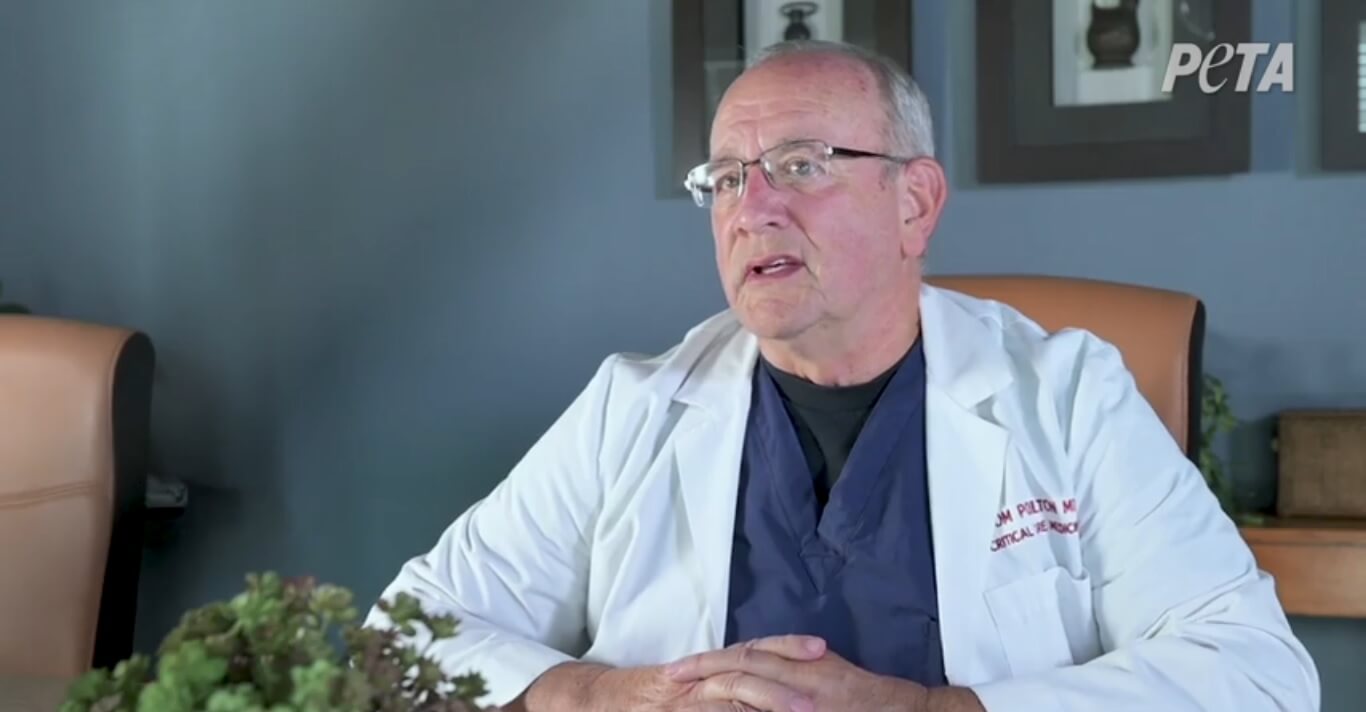 Dr. Poulton spent the past decade combating unethical, senseless, and wasteful animal tests.
As a patient with an incurable disease and a doctor with experience in treating children with muscular dystrophy (MD), he had a unique perspective on animal testing, and he chose to use his position for good. He spoke out against cruel experiments on animals that fail to advance human health—including deadly MD experiments conducted on golden retrievers and other dogs at Texas A&M University.
"[Animal experiments are] extraordinarily unlikely to help people like me or … kids with muscular dystrophy," Dr. Poulton said. "I think it's appropriate that we [instead] funnel research dollars to those lines of research that stand the most likelihood of actually helping human patients."
Most recently, he endorsed PETA's "Research Modernization Deal," a report that offers a strategy for identifying and eliminating taxpayer funding for methods that don't work and refocusing resources on promising, human-based tools.
"As a physician and person with a fatal disease for which there is no cure, I support a plan to redirect research funding toward human studies aimed at treating human problems that are amenable to amelioration or cure and away from experiments on animals," Dr. Poulton said of the report. "PETA's Research Modernization Deal provides such a plan. Collating the wealth of information in the report was an extraordinary undertaking and those involved in funding medical research, namely the National Institutes of Health, would do themselves a favor by heeding PETA's call."
Dr. Poulton also worked with PETA for more than a decade to write to numerous government and military officials—including then–Secretary of Defense Leon Panetta and then–Secretary of the Department of Homeland Security Janet Napolitano, among others—urging them to stop using animals in crude military trauma training exercises and other invasive medical drills.
He lived to see his advocacy efforts pay off when, in 2017, the Coast Guard became the first branch of the U.S. armed forces to end all trauma training exercises on animals, a violent practice that the agency's then-commandant deemed "abhorrent."
"Although some misled people with fatal illnesses support animal experimentation as 'their only hope,' many do not want animals to be tortured (yes, tortured) under the thin rationalization that we might benefit," Dr. Poulton said. "I will die at peace knowing I did not support such follies."