According to reports, two animals died at Marineland of Canada in early May 2023: Sonar, a 26-year-old bottlenose dolphin, and Kodiak, a 28-year-old beluga. Their deaths come two months after Kiska—the final orca held captive in Canada—died from a bacterial infection at the facility.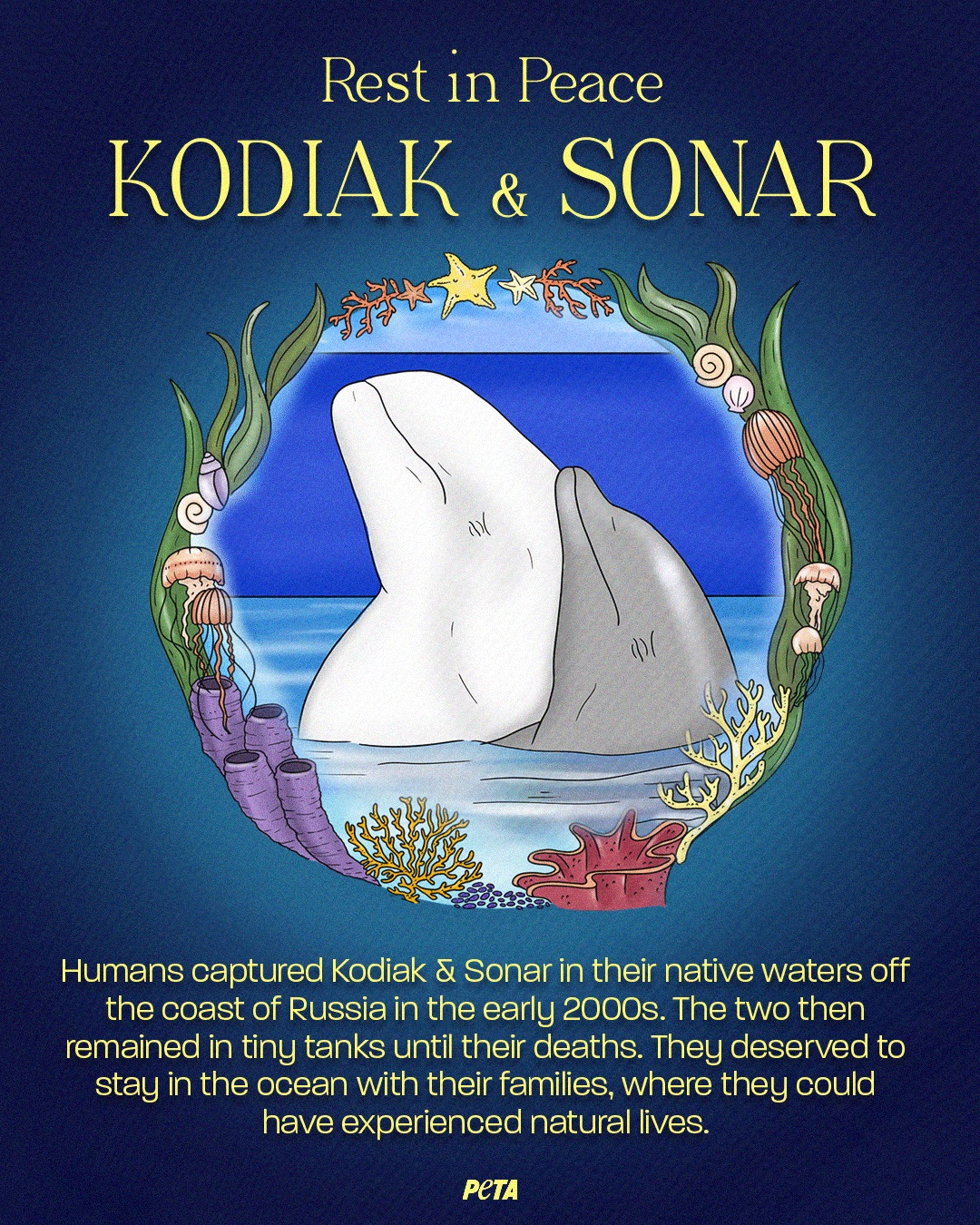 Sonar and Kodiak were captured in their native waters off the coast of Russia in the early 2000s. They then remained in tiny tanks until their deaths. Like all cetaceans held prisoner in marine parks and exploited for entertainment, they deserved to stay in the ocean with their families, where they could have experienced natural lives.
Keeping Dolphins and Whales in Marine Parks Is a Dying Business
Canada banned whale and dolphin captivity years ago, preventing any cetaceans from being bred there and others from being brought in from elsewhere. Sadly, Sonar and Kodiak remained imprisoned until the bitter end.
Dolphins and belugas are still being forcibly bred and confined at marine parks in the U.S., but the tide of public opinion has turned against these cruel practices:
In March 2023, the Miami Seaquarium confirmed that it plans to release the long-suffering orca Lolita—who has been kept in a tiny tank for over 50 years—to a seaside sanctuary in Washington state.
Because of PETA's campaigns and mounting criticism of SeaWorld, the company ended its sordid orca-breeding program and then agreed to stop allowing trainers to stand on dolphins' faces and backs in cruel circus-style shows.
However, 18 orcas are still suffering at SeaWorld's abusement parks, and other dolphins and whales are still being used as breeding machines to create generations of suffering animals.
In nature, belugas and bottlenose dolphins maintain dynamic relationships with large social networks, choose their own mates, and swim freely in the ocean. SeaWorld and other marine parks teach the wrong, speciesist lesson: that it's acceptable to imprison animals, breed and group them as we—not they—please, and deny them everything that's natural and important to them.
Please urge SeaWorld to establish a firm and rapid plan to end its use of animals, stop breeding all dolphins and whales, and relocate them to seaside sanctuaries.
There, they could live in large areas of the ocean while still benefiting from human care for as long as needed.