CVS' greeting card aisle is getting a whole lot more humane. After learning from PETA that cards featuring great apes wearing costumes, displayed in studios, or interacting with humans hinder conservation efforts, the drugstore giant has banned them from its nearly 10,000 stores! The cards have largely disappeared from the stores' inventories, and any that may remain are being removed.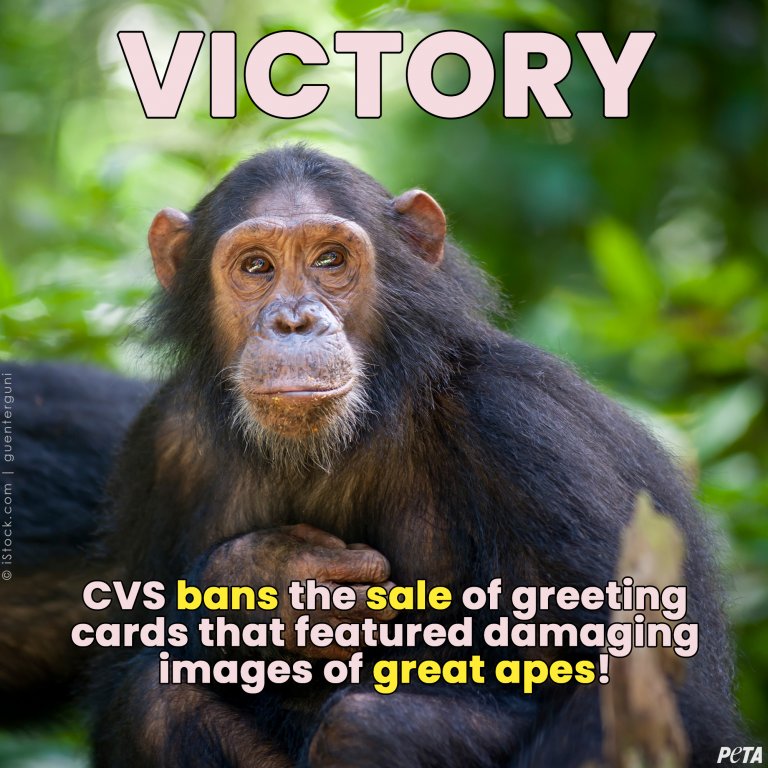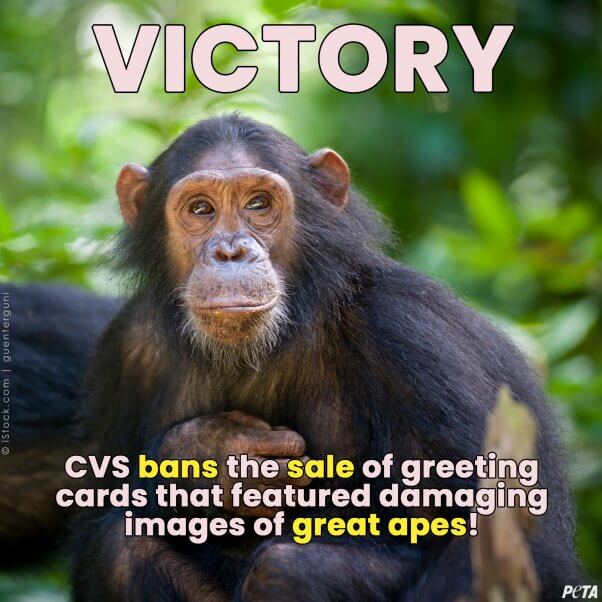 © iStock.com/guenterguni
Unnatural images of chimpanzees mislead consumers into believing that the species—which may face extinction within our lifetime—is thriving. These portrayals may also increase the black market demand for endangered great apes as "pets," which is one of the main forces driving them toward extinction.
"Chimpanzees aren't models or props, and photos of them wearing Santa hats or sitting at the holiday table put these endangered animals at risk," says PETA Executive Vice President Tracy Reiman.
For all these reasons, Rite Aid removed all great ape greeting cards from its stores earlier this year—and PETA is calling on Hallmark and American Greetings to retire images featuring great apes from its cards.
ICYMI: Drugstore giant @riteaid has agreed to remove ALL greeting cards that depict demeaning images of great apes from its store shelves!

Thank you for recognizing that dressing chimpanzees up in costumes & putting it on a card isn't cute or funny. https://t.co/tOKWaqBFyk

— PETA (@peta) March 21, 2021
Walgreens took similar action, urging Hallmark to stop selling the cards in its U.S. stores, and Boots (owned by Walgreens Boots Alliance) in the U.K. agreed to pull all such cards from its stores, too. Greeting card company Moonpig dropped all images of captive great apes from its products, and top stock-image agencies such as Getty Images, Shutterstock, and Dreamstime are banning inappropriate images of nonhuman primates.
Continuing to exploit endangered chimpanzees for profit is a form of speciesism—a human-supremacist worldview.
CVS is pulling these cards off its shelves, and we must call on other retailers to follow suit. Join PETA in urging American Greetings to have a significant positive impact on the conservation efforts for endangered great apes: