As reported in the Martinsville Bulletin, following five years of efforts by PETA—including a recent series of talks brokered by the commonwealth's attorney for Henry County, Virginia, M. Andrew Nester, and the Virginia State Police—Monroe, North Carolina–based turkey producer Circle S Ranch, Inc., has agreed to improve its emergency-response plan for accidents involving its trucks carrying live turkeys. The changes draw upon recommendations provided by PETA earlier this year and come after Nester and police contacted the company about several local tractor-trailer crashes in its history.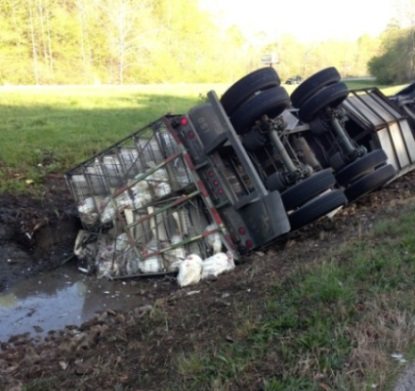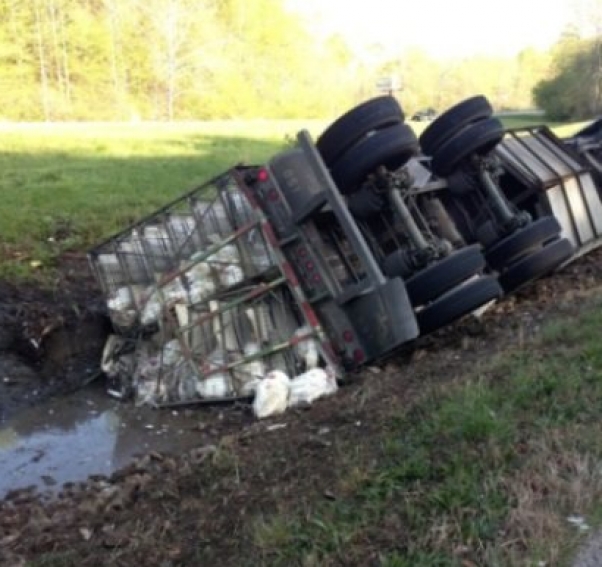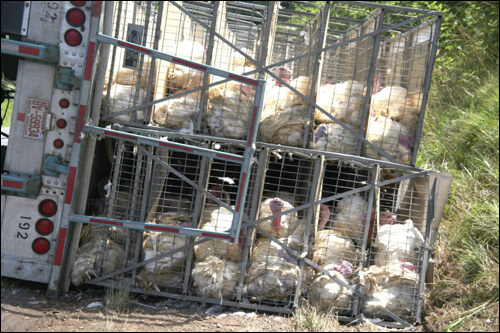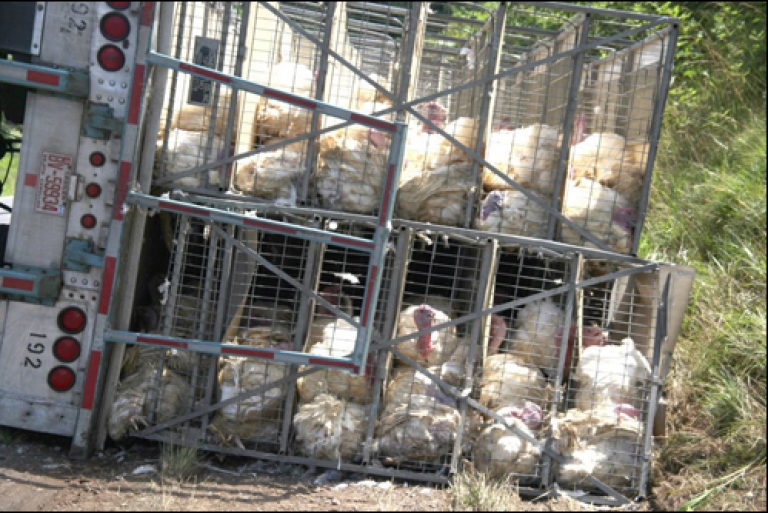 The enhanced measures include adding an annual training session for workers regarding accident-response protocol and working with at least one veterinarian who can respond promptly to local crashes and relieve injured turkeys of their suffering.
Tractor trailers hauling live turkeys for Circle S crashed three times in Henry County between June 14, 2012, and February 2, 2017. Circle S teams arrived more than four hours later after each wreck. Eyewitnesses reported that turkeys with broken bones and other serious injuries were not relieved of their suffering on site. Workers allegedly tossed turkeys against coops, causing their heads and wings to strike the metal frames. After a 2012 crash, approximately 540 turkeys—piled on top of one another in transport cages and denied shade—slowly suffered and died on the side of the road of what a veterinary technician at the scene suspected was heat-related stress.
PETA called for criminal investigations of the 2012 and 2017 crashes and posted action alerts regarding this issue, prompting thousands of you to urge the company to improve its crash prevention and response plan. The support of our members and supporters helped to push the company to do the right thing.
In 2013, PETA contacted the company after learning that the driver responsible for a crash had been convicted of driving while impaired, driving while his license was revoked, and speeding.
Circle S's new policy will reduce much unnecessary suffering, but we'll keep working until no animal—turkey, chicken, duck, goose, sheep, cow, or pig—is sent on the traumatic and arduous journey to the slaughterhouse. You can help animals right now by going vegan. Go vegan.