San Bernardino authorities reportedly arrested a 16-year-old boy this week on suspicion of felony animal abuse after a video posted to Snapchat apparently showed him throwing a cat high into the air and onto a street, prompting TeachKind—PETA's humane education division—to send letters today to schools in the area urging them to implement humane education. The cat reportedly sustained a fractured leg and is receiving treatment.
CAT ABUSE UPDATE: The 16-year-old punk seen on video throwing a cat into the street was arrested by @OntarioPD this afternoon and has been charged with FELONY animal abuse!! Great job to police for tracking him down. Kitty is now recovering! @FOXLA pic.twitter.com/kti2yUfv0X

— Bill Melugin (@BillFOXLA) December 4, 2017
TeachKind has asked the district superintendent to ensure that students know to report cruelty to animals when they see it. The group has also offered the high schools and schools free "Bullies Are Just Cowards: Report Abuse When You See It!" posters and sent elementary schools its Share the World curriculum kits, which are appropriate for even the youngest learners. They also help schools comply with California's character-education mandate, which requires that schools incorporate lessons on kindness toward companion animals.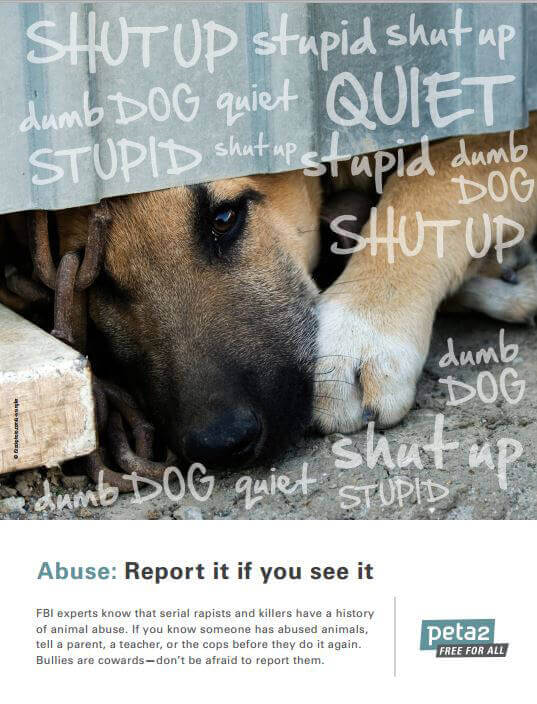 dog photo © iStock.com/a-wrangler
"We're facing a bullying epidemic, so when a teen hurls a cat into the air and breaks the animal's leg, it's a huge cause for concern," says PETA Senior Director of Youth Outreach and Campaigns Marta Holmberg. "TeachKind is urging schools to help prevent future incidents of animal abuse by teaching kids to respect others."
TeachKind notes that according to leading mental-health professionals and law-enforcement agencies, perpetrators of violent acts against animals are often repeat offenders who pose a serious threat to the community at large. Its staff is available to send materials to schools, suggest lesson plans, and even host classroom presentations for students via Skype—all for free.
To request humane education materials for your school, please visit TeachKind.org.