A big "Thank you!" is due to the Gratiot County Board of Commissioners for taking an important step toward ending the betrayal of homeless animals in Michigan.
You may recall that this past winter, the University of Michigan ended a cruel cat laboratory after PETA revealed that the school was purchasing homeless cats from R&R Research, a notorious Class B dealer. PETA also discovered that R&R obtained many of the cats from the Gratiot County, Michigan, animal shelter. Local citizens joined PETA in calling for reform, and the commissioners have now passed a resolution to strictly limit the number of animals that it releases to R&R Research.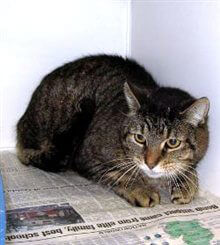 He is of one of the cats who ended up at the University of Michigan and was killed
The End of an (Appalling) Era
Gratiot County couldn't completely ban the release of animals to R&R because of a contract that runs through February 2014, but the commissioners voted to release only one animal to R&R in each of the next two years. While it's disappointing that two animals will still fall into R&R's hands, the commissioners are making the best of a bad situation—especially when you consider that, last year, the county animal shelter handed more than 30 animals over to that torture pimp. In addition, the county voted to end the barbaric use of gassing as a method for euthanasia at the shelter.
Mecosta County—the only other county in the state whose shelter was releasing animals for use in experiments—confirmed that starting July 1, its shelter will no longer do so. So when Gratiot County's contract with R&R expires, it will mark the complete end of pound seizure in the state of Michigan.
How You Can Help Animals Exploited by Animal Dealers
Please ask your congressional representatives to prohibit Class B dealers from selling lost, abandoned, and stolen animals to laboratories.