Yet another truck hauling turkeys for Circle S Ranch has crashed in Virginia, leaving maimed turkeys languishing in cages strewn along the road for multiple hours.
Workers reportedly took more than five hours to arrive at the scene of the Pittsylvania County wreck and recover the remaining survivors. Once again, PETA is calling on Circle S Ranch—which has a long and sordid history of crashes such as this one—to implement measures to prevent and quickly respond to them.
This is at least the fifth time in recent years that a Circle S Ranch truck has crashed in this area. Even though the company agreed to improve its response to these wrecks in 2017, the driver in the latest wreck reportedly told Virginia State Police that he lacked contact information for Circle S representatives who could assist with this emergency. Police reportedly struggled to contact the company's staff for over two hours, at which point Circle S Ranch reps told them that it would take another three hours for anyone to arrive to start recovering the turkeys.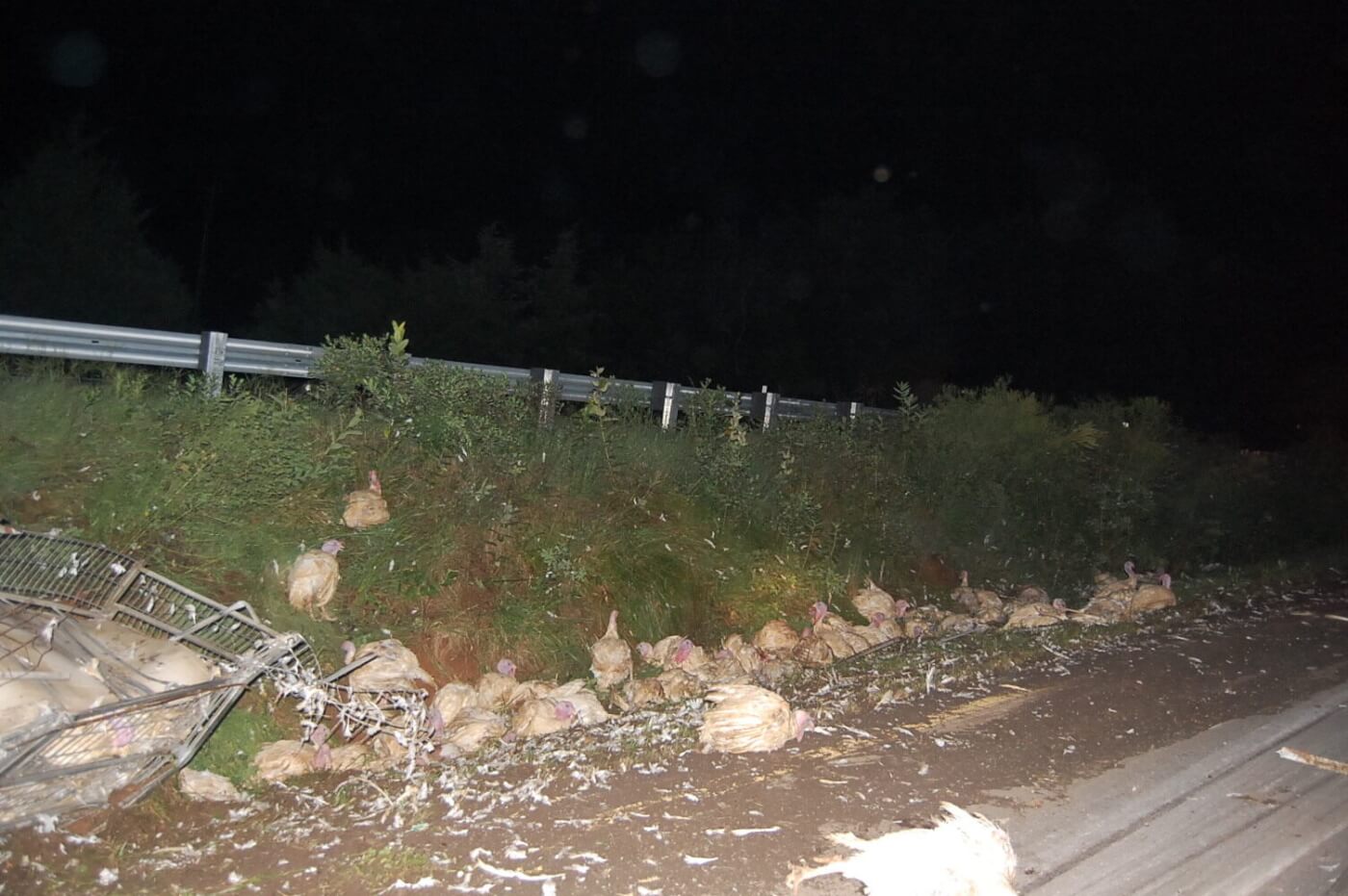 In 2019, many turkeys suffered and died after a truck driving for Circle S Ranch ran off the road and overturned. Between 2012 and 2017, tractor trailers hauling turkeys for the company crashed three times on the same road in Henry County. Circle S teams didn't arrive until more than four hours after each wreck had occurred. After the 2012 crash, approximately 540 turkeys—piled on top of one another in transport cages and denied shade—slowly suffered and died from apparent heat-related stress on the side of the road. A driver responsible for another crash was convicted of driving while impaired.
This crash shows that turkeys continue to suffer for extended periods due to the company's apparent lack of a speedy, effective plan for handling these crashes. In our letter to Circle S, we reiterated our demand that it implement commonsense measures, including the following:
Providing drivers with emergency contact information, training them on accident prevention and response, and reviewing their fitness to haul animals
Mandating the arrival of a veterinarian and trained responders from Circle S (and/or other turkey-industry companies) within 60 minutes of every crash
Ensuring the proper handling of surviving turkeys
Reviewing its response to each scene and addressing needs for improvement, further training, and/or disciplinary action
Here's How YOU Can Help Spare Turkeys' Lives
For years, Circle S has hauled many millions of turkeys to a slaughterhouse operated by Cargill Turkey, which sells turkey flesh under various brands, including Honeysuckle White and Shady Brook Farms. One way you can take action is by telling Cargill that you'll never again buy turkey flesh from it, in light of Circle S' egregious history of wrecks:
But the best way to prevent turkeys from suffering on farms, in transport trucks, and at slaughterhouses is not to eat them. You can spare nearly 200 animals a year just by going vegan. Get started today by ordering a vegan starter kit: