In a push for Cialis-maker Eli Lilly to ban the forced swim test—a cruel and discredited near-drowning test in which small animals are often dosed with a test substance and then dropped into water and forced to swim for their lives—PETA is unveiling a provocative new graphic and plastering the message in the neighborhood of an Eli Lilly vice president:  "Cialis-Maker, Don't Be a Limp D*ck."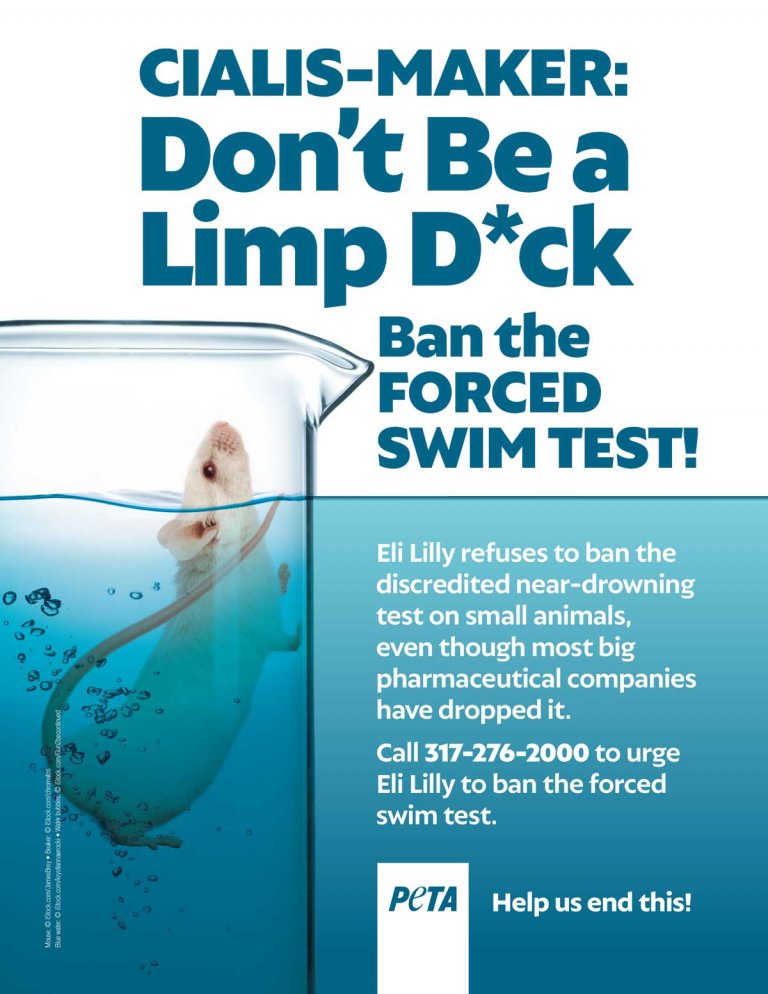 In the test, mice, hamsters, or other small animals are dropped into inescapable beakers filled with water and forced to swim to keep from drowning, purportedly to shed light on human depression. The test has been heavily criticized by scientists who argue that floating is not a sign of depression or despair, as some claim, but rather a positive indicator of learning, saving energy, and adapting to a new environment.
Many of Eli Lilly's competitors have proved that dropping the near-drowning test is just not that hard—following talks with PETA, Johnson & Johnson, Bayer, GlaxoSmithKline, AbbVie Inc., Roche, AstraZeneca, Novo Nordisk A/S, Boehringer Ingelheim, Pfizer, and Bristol Myers Squibb all nixed the test.
"Impotent leadership is allowing a cruel and worthless test to continue even when there are superior, humane methods available," says PETA Senior Vice President Kathy Guillermo. "PETA is pushing Eli Lilly to follow its competitors and drop the test, because watching animals gasp for air doesn't tell us anything about human depression."
In July, U.K. scientists concluded in a scientific paper that the forced swim test can't predict the efficacy of potential new antidepressant drugs. An article published in STAT confirmed that the U.S. Food and Drug Administration does not require the test. Regulators and government officials in the EU and New Zealand have also criticized it.
New journal article shows scientists researching human depression RARELY cite studies using the forced swim test on rats, likely because they know how useless it is.

But for some reason, @LillyPad still refuses to ban it.

Help us keep the pressure on. https://t.co/eQwAWveKNT

— PETA (@peta) February 7, 2022
In August, PETA neuroscientist Dr. Emily Trunnell published a paper in the journal Drug Discovery Today that examined the use of the forced swim test and revealed that it wasn't successful in determining whether a substance would be effective in treating human depression. And in December, scientists from Johns Hopkins University, the University of Winchester, and other institutions found that use of the test wasn't furthering clinical depression research.
Take Action for Mice and Rats!
Join PETA in demanding that Eli Lilly join its competitors in banning the cruel, worthless forced swim test: