A cat's survival of two harrowing ordeals in a gas chamber has prompted concerned citizens to demand that the West Valley City, Utah, animal shelter scrap its cruel carbon-monoxide gas chamber and replace it with euthanasia by injection. After the second attempt to gas her, the cat was put into a plastic bag and placed in a cooler before being discovered still alive sometime later.
Although the cat, now named Andrea, has since been adopted, animals in West Valley City—and in other municipalities in which animal shelters continue to use gas chambers—still suffer nightmarish deaths. There is no excuse for using these antiquated contraptions, which can take as long as 25 terrifying minutes to end animals' lives—assuming they work at all.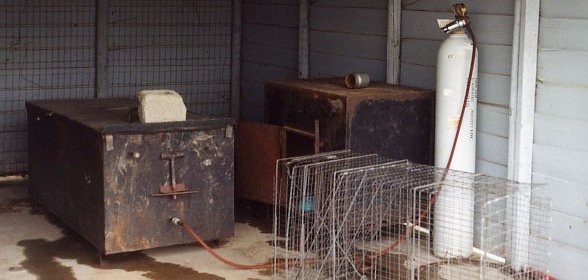 Gassing is especially cruel to animals who are very young, old, pregnant, or sick—qualities common to many, if not most, animals who arrive at animal shelters daily—because of their compromised health and/or physical state. Carbon-monoxide exposure is also dangerous to workers, placing them at risk for short- and long-term health problems or even death. When properly performed, euthanasia by injection is painless and quick. It's less expensive, too—an important consideration at a time when so many animal shelters are struggling financially.
If your local animal shelter is still using cruel and archaic methods to put animals to death, please work with your elected officials to institute a policy requiring euthanasia by injection. To get more people involved, you can write a letter to the editor of your local newspaper explaining why it's time to ensure that when euthanasia is necessary, the community's least-fortunate animals have their lives ended humanely, with peace and dignity.