Latin Grammy Award winner Carla Morrison is known to spark romantic fireworks in the hearts of her fans, but she would never set off real fireworks. Ahead of Fourth of July, Carla and her beloved animal companions, Tino and Chawiwi, joined PETA to remind people to celebrate with music, not explosions!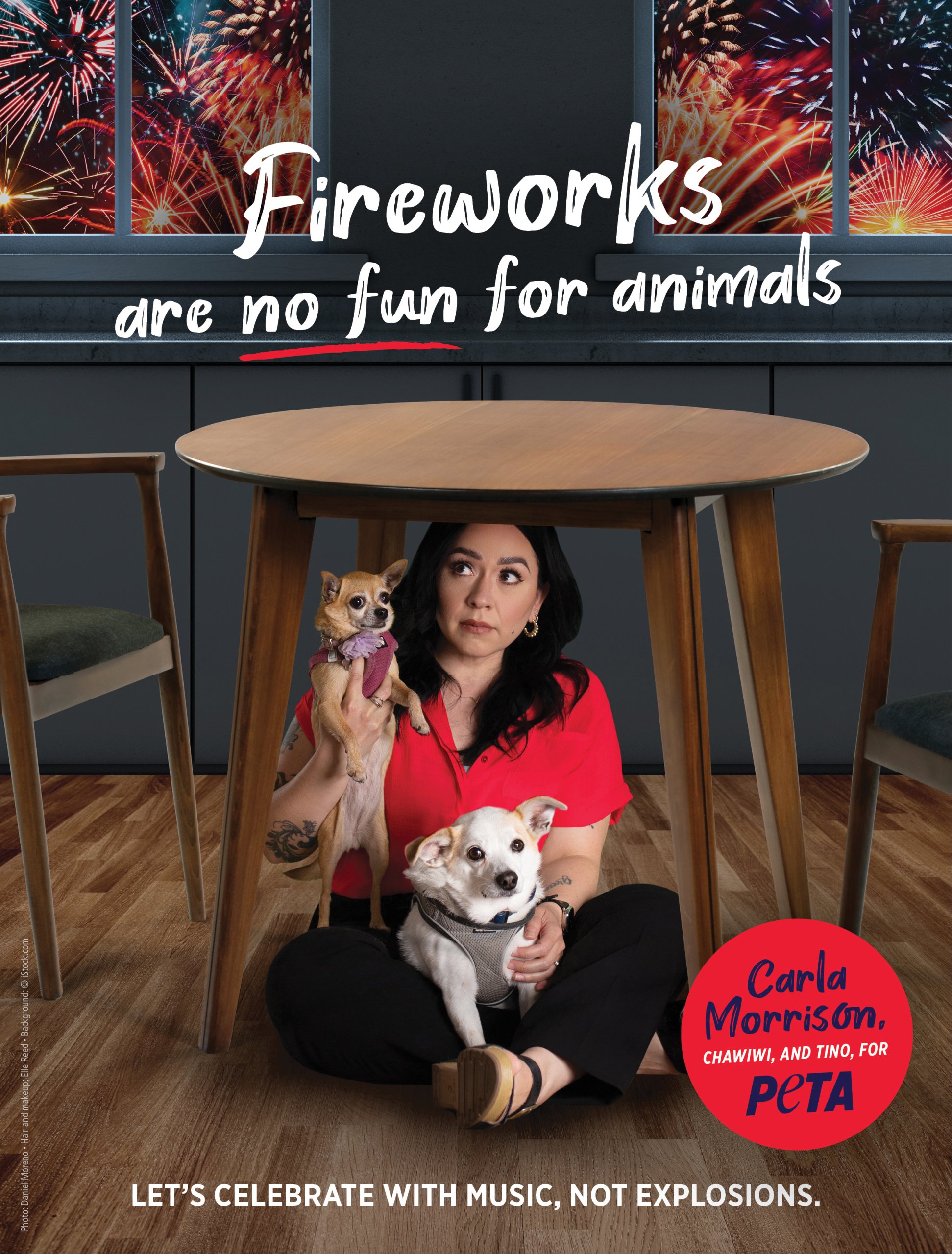 Every Independence Day (and whenever there are fireworks displays), animal shelters experience intake spikes that exceed their capacity and further strain community resources. Companion animals who arrive at shelters at these times often have bloody paws and broken bones and might never be reunited with their families. Others, doomed to an even worse fate, are hit by cars or strangled after their collars become caught on fences.
Make sure you prepare your home and animal companions before every expected fireworks event. The most important thing for frightened dogs is to have their guardians close by—distract your cat or dog with lots of love and attention, and take the following precautions whenever there will be fireworks displays:
Keep cats and dogs indoors. Never leave animals tethered or chained outside—they can hang themselves if they leap over a fence while trying to run from the noise. Animals can also injure themselves while trying to climb out of pens.
Never take animals with you to watch fireworks displays! If you know in advance that there will be fireworks in your area, stay home with your animals and try to help them feel safe.
Close your windows and curtains. To help drown out the sounds, turn on fans and air-conditioning units as well as the TV or a radio that's tuned to a classical music station.
Other ways to help keep animals calm include using a ThunderShirt, which can help dogs and cats cope with the stress of the fireworks, and playing specially composed music from iCalmPet. Ask your veterinarian for other recommendations that might help soothe your animal companion's distress.
Make sure your animal companion is microchipped and wearing a collar or harness with an up-to-date identification tag, just in case they become separated from you.
If weather permits, take dogs for a long walk or a romp in the dog park before fireworks start in order to help tire them out.
If you witness someone setting off fireworks illegally, call the authorities right away.
Dogs and cats don't know that fireworks aren't actual bombs bursting in the air, and they can be so frightened by them that they run away, jumping fences and even breaking through windows.

—Carla Morrison
For Animals, Fireworks Aren't Festive—They're Frightening!
Get loud for animals by skipping the fireworks, never setting off any yourself, and sharing these tips with your friends and family. And be sure to get an "I'm Scared of Fireworks" yard sign to help your neighbors recognize that companion animals are frightened by fireworks. And remember, mañana será bonito if you don't set off fireworks tonight.