"Coyotes suffer for Canada Goose!" That's the message bombarding the attendees of this year's Toronto International Film Festival (TIFF), which has yet again taken blood money from Canada Goose.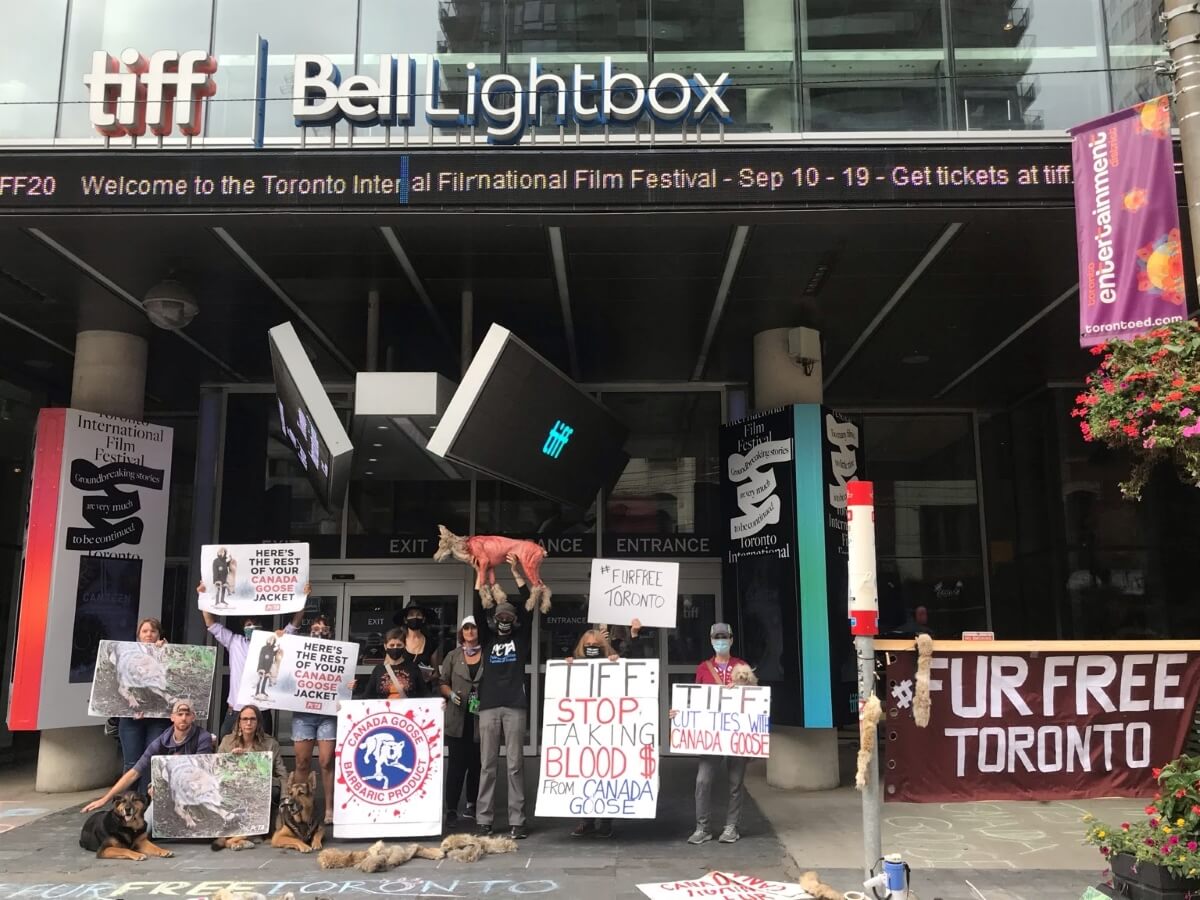 Our mobile billboard—showing a coyote in a steel trap or a man in a Canada Goose jacket holding a dead goose and a coyote—circled TIFF Bell Lightbox and outdoor festival venues CityView and Ontario Place.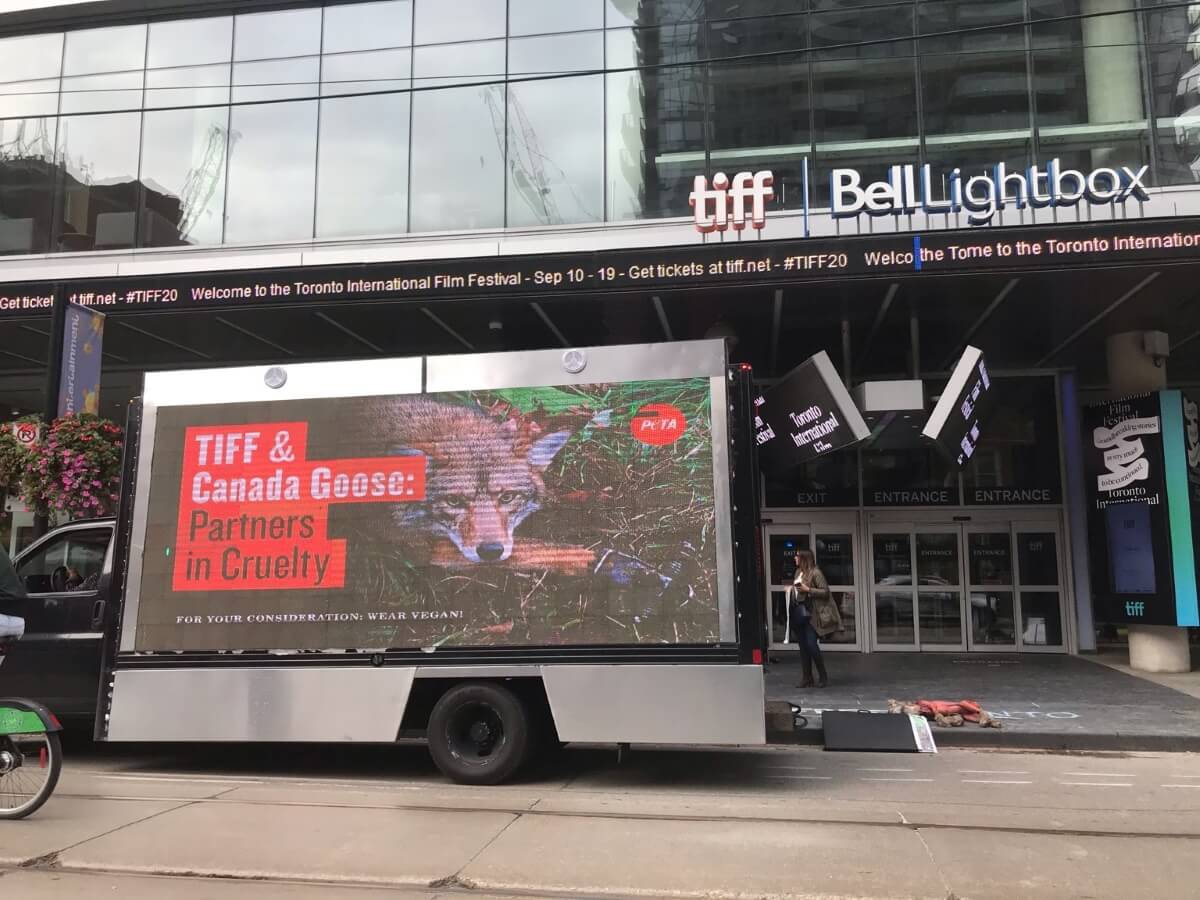 How is TIFF connected to Canada Goose?
Canada Goose is a 2020 TIFF sponsor and is presenting awards with its name stamped on them. As a marketing ploy, the company sometimes gives away fur-trimmed or down-filled jackets to film crews and cast members when they're shooting in cold climates.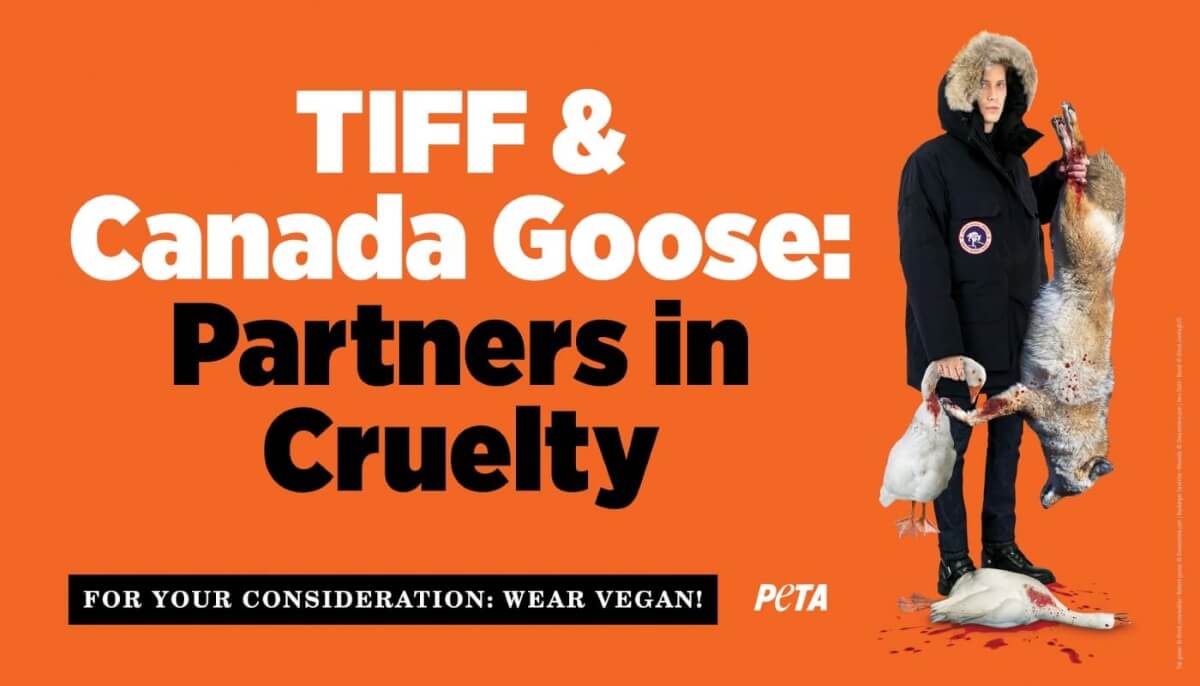 What many festivalgoers may not know is that the company uses fur from coyotes caught in painful steel traps and then killed by trappers as well as down feathers from slaughtered birds.
Here's the cruelty behind every stich of a fur-trimmed, down-stuffed Canada Goose jacket.
By Canada Goose's own "standards," coyotes are allowed to suffer in traps indefinitely while enduring blood loss, lacerations, and bone fractures. Mothers desperate to get back to their defenseless pups have even been known to attempt to chew off their own legs. When the trapper returns, those who have managed to survive but not escape are shot, bludgeoned, or killed in some other horrific way.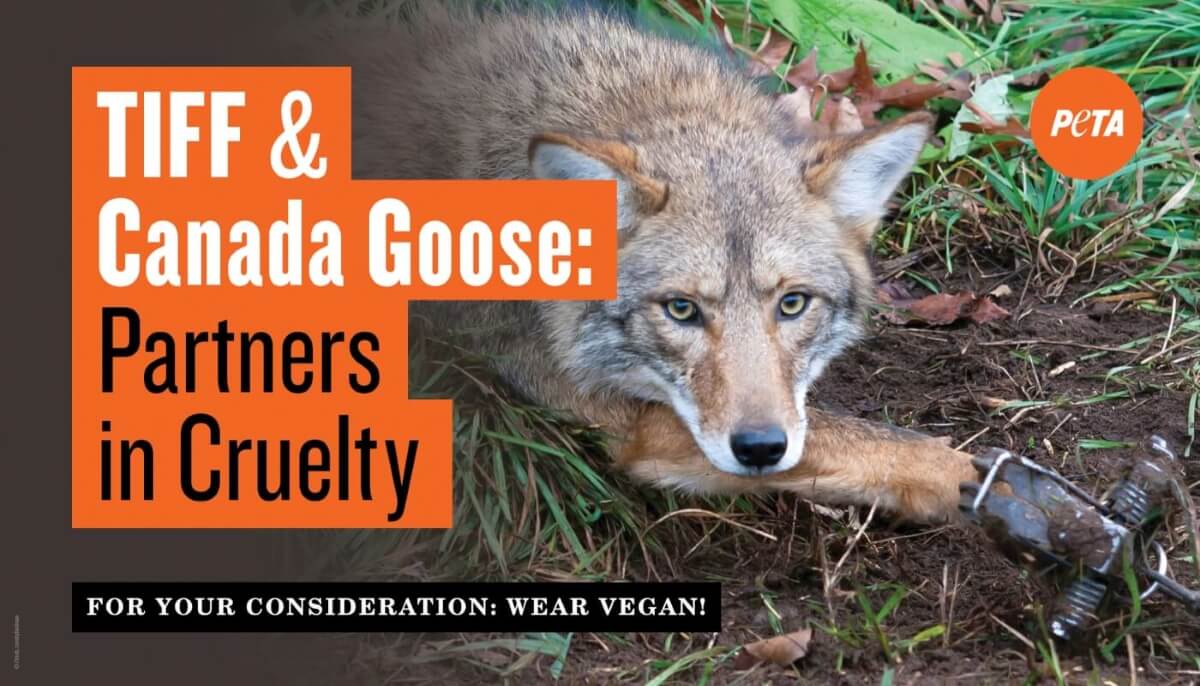 Canada Goose says that it relies on a third-party Responsible Down Standard, but there's absolutely no such thing as "responsible" down. These standards actually allow injured birds to suffer in pain for days before they're required to be put out of their misery.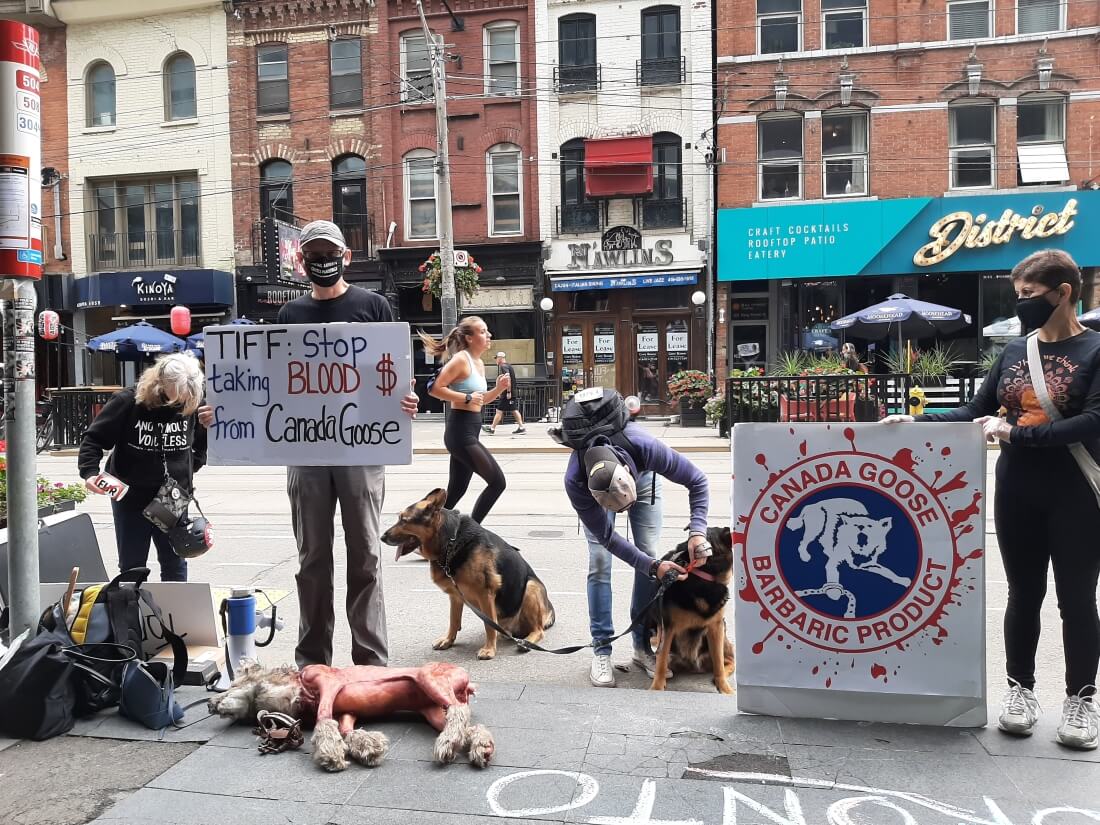 Down suppliers who knowingly violate the standard—by slaughtering birds while they're conscious or mutilating them via painful procedures such as debeaking or wing-clipping—can still label the down as "responsible," as long as they stop doing it within 30 days of being caught in the act.
All birds used by the down industry are inevitably sent to the slaughterhouse, where the standard practice is to hang them upside down, stun them, and then slit their throats.
PETA protested TIFF's opening night to expose Canada Goose's misleading claims about down and fur.
The company has a history of hiding behind misleading marketing, and its announcement that it will use "responsible" down and "reclaimed" fur starting in 2022 is no different. Fur is always the product of extreme cruelty, no matter when the animal it was stolen from was killed. This worthless policy doesn't go into effect for two more years, which means that coyotes will continue to be violently killed while Canada Goose keeps lining its parkas and its pockets.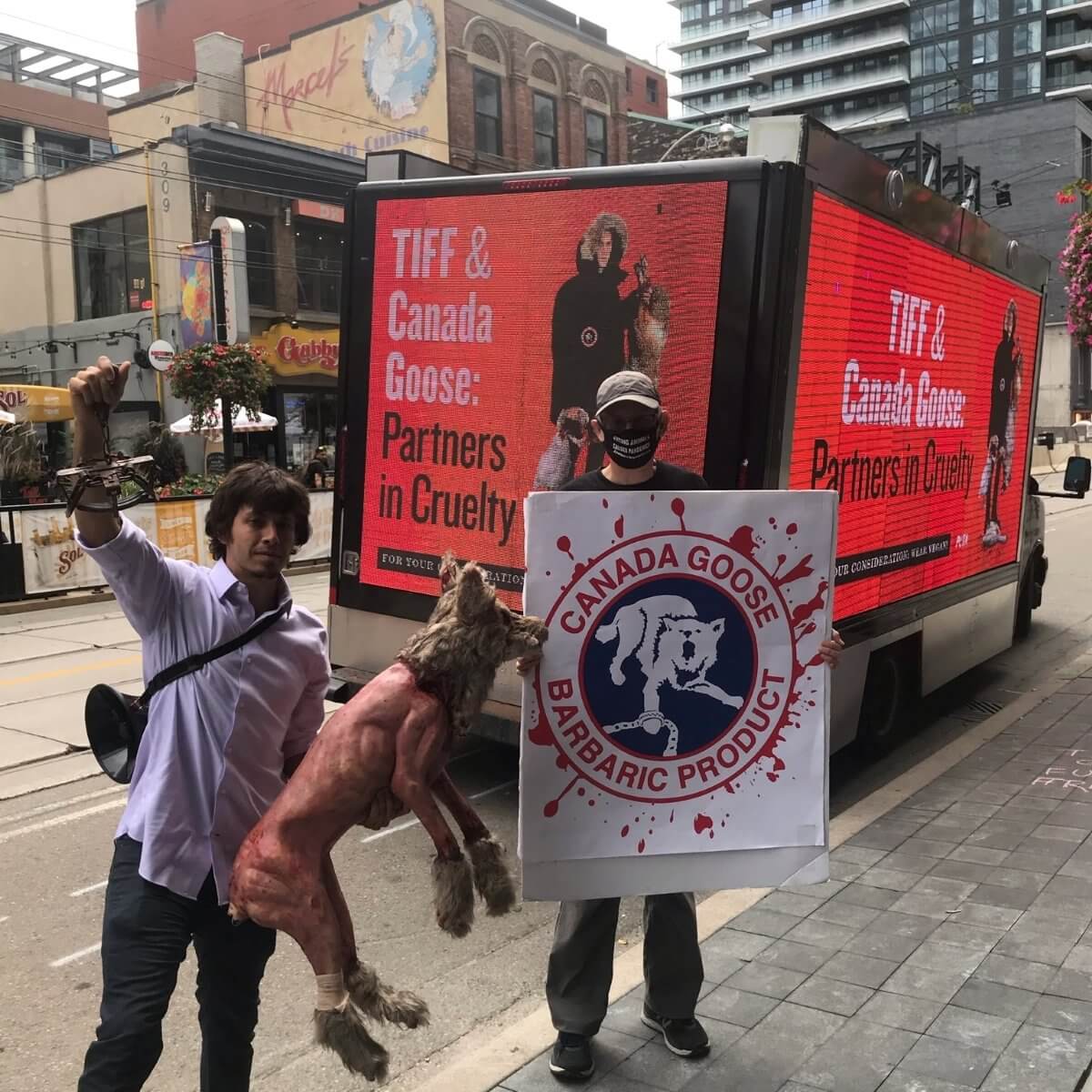 You Can Help Push Canada Goose to Drop Fur and Down Right Now
Dozens of top designers and outdoor companies no longer use real fur, and Canada Goose doesn't need to, either. PETA will campaign against the company until it stops selling fur, down, or any other parts of dead animals.
After hearing from us about the violent slaughter of coyotes for the fur used for Canada Goose jackets, the Berlin International Film Festival confirmed that it cut ties with the company in 2017.
Using the form below, please urge TIFF to sever its ties with Canada Goose.