A parking lot may not seem like a dangerous place, but on a 90-degree day, the interior of a parked car can reach 109 degrees in just 10 minutes—a deadly temperature for dogs (or anyone else) trapped inside. So far in 2021, at least 49 dogs have died in parked cars because someone brought them along on errands when they should have been left at home—and these are just the deaths that have been reported. Deaths like these are tragic, and it's easy to avoid them: Don't leave anyone in the car!
Following discussions with PETA, Cafaro, an Ohio-based property management company, decided to help spread this vital message by creating its own signs and displaying them at dozens of properties across 10 states as well as on social media. Thousands of shoppers got the message that even a "quick errand" can take longer than expected and that just a few minutes can mean death for loved ones left in the car.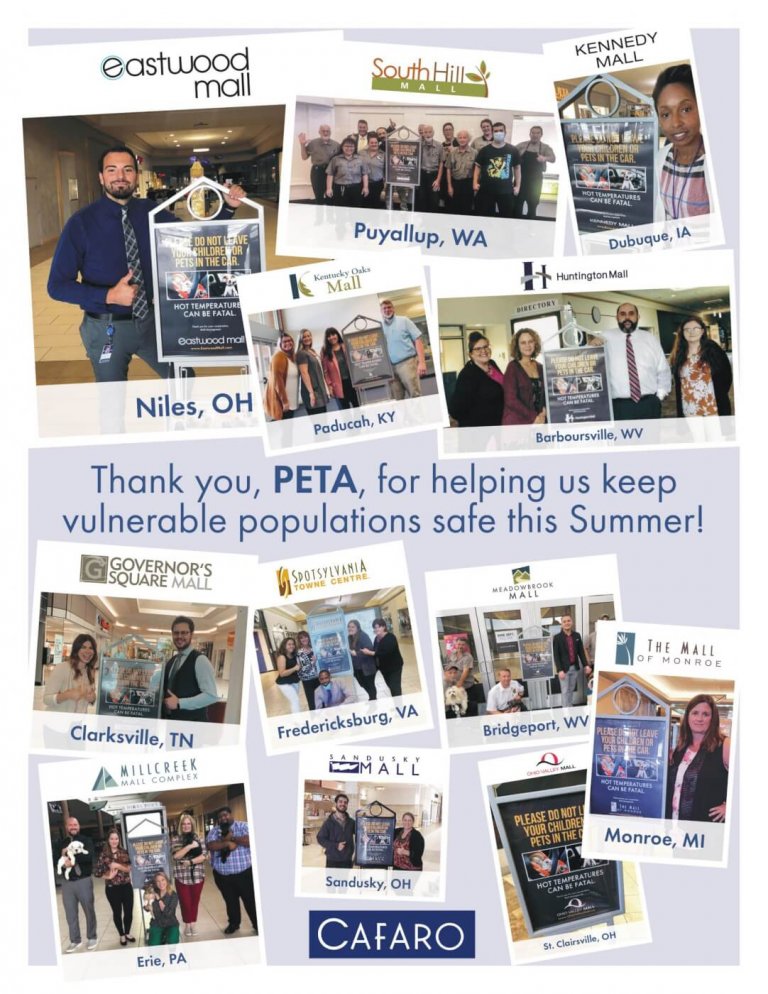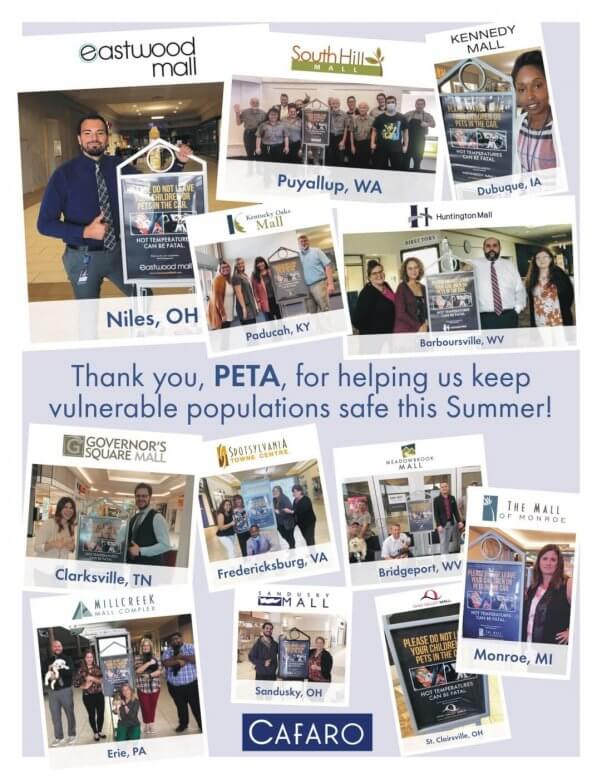 PETA presented Cafaro with a Compassionate Business Award and a box of vegan chocolates for taking steps to protect dogs, and Cafaro thanked PETA for bringing the issue to its attention by sharing heart-warming photos of employees and their animal companions at locations across the country. Word of the award and Cafaro's campaign made its way to media platforms such as The Business Journal, BrainFood From the Heartland, and WKBN, raising awareness of the issue and helping to prevent more dogs from getting malled to death.
Each of us can help save lives in our own communities: If you see a dog in a parked vehicle, take immediate action. Write down the car's color, make, model, and license plate number, and rush to have nearby businesses page the owner. If the owner can't be found, call local humane authorities and/or the police. If the dog is unresponsive or if the animal's life appears to be in imminent danger, take a picture or video and do what you have to do—PETA offers an emergency window-breaking hammer for assistance. Follow Cafaro's example and remind others that no matter the weather, no loved one should be left in the car.