Where is Bus Buzz? PETA was there when the 3-year-old horse sustained an injury on Friday, November 3, on the first day of the Breeders' Cup World Championships at Santa Anita Park in California. We know he incurred a foreleg injury that required that the affected joints be fused. A brace was placed on his front left leg, and he hobbled onto the horse ambulance. It was later announced that he was slated to undergo urgently needed surgery on that Sunday.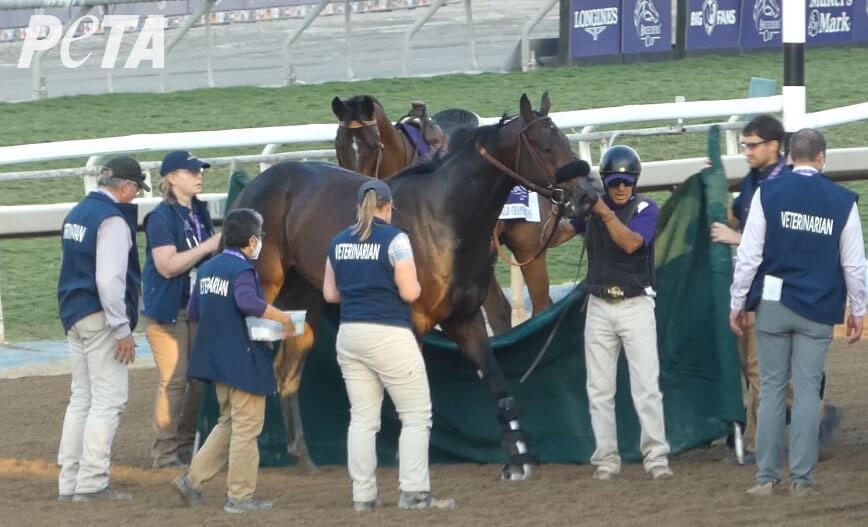 Was Bus Buzz's Surgery Successful?
Sunday has come and gone, but Bus Buzz's owners, trainer, and the Breeders' Cup organization haven't shared any update on his well-being, let alone proof of life. We need to know: Is Bus Buzz still alive?
PETA caught the entire incident on video—and it appears serious. We're demanding accountability from those involved.
We need answers!

Bus Buzz supposedly underwent surgery on Sunday, but no statements have been made since about his injury or recovery. We will not forget about him! pic.twitter.com/xKAf4WhN4i

— PETA (@peta) November 7, 2023
Carnage in California
At least 72 horses have died in California from racing injuries so far this year. We're hoping Bus Buzz isn't another fatality.
While California has led the way in passing measures to protect horses, it has stopped far short of all that's needed, beginning with the immediate suspension of the trainer when a horse dies and the installation of low-radiation, standing CT imaging equipment that can be used to screen horses for injuries. If the deaths don't end, the racing must.
Help Bus Buzz and Other Horses Across the U.S.
If the owner, the trainer, and the track are hoping we'll forget about Bus Buzz, that's not going to happen. They need to come clean now and tell the public what happened to this horse.
Please take just a moment to make timed "breezes" safer for juvenile horses: