Update: In response to popular demand, autographed 8-inch-by-10-inch prints of Brooke Hogan's photo are available for $50 (unsigned prints are available for $20), with 80 percent of the proceeds going to PETA. Order by e-mailing [email protected].
A new exhibit by celebrated Miami photographer Jordan Michael Zuniga titled "Women in Cages" debuted Thursday night to rave reviews. If this photo from the exhibit, featuring wrestling legend Hulk Hogan's daughter, Brooke, is anything to go by, we can see why the show made such a strong impression: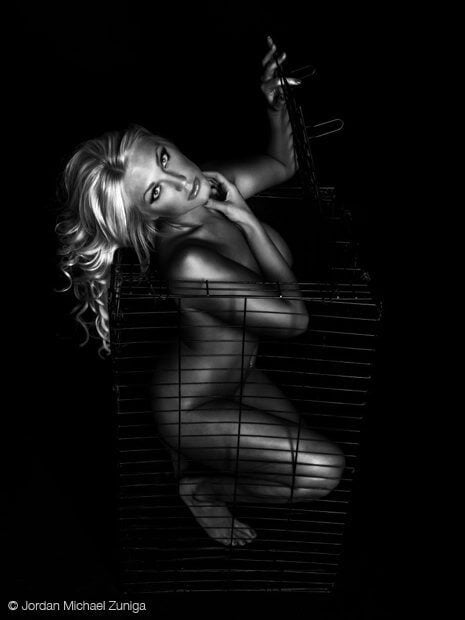 I hope it shocks [people] to see a human in the place of an 'animal.' … [I]t really shows how absurd that treatment is. … We're all God's creatures. Just because we don't speak the same language doesn't mean [animals] don't have feelings too.             —Brooke Hogan
A dedicated PETA supporter, Zuniga conceived of the show as a way to explore the politics surrounding the treatment of animals. And he's putting his money where his mouth is, donating proceeds from sales of the photographs to PETA. Other photographs in the exhibit feature model Ines Rivero, The Apprentice veteran Katrina Campins, Michelle Pooch, and Tara Solomon, among others.
If you live in the Miami area, check out the exhibit. The photos will be on display at Cafeina in Wynwood through September 10.
Written by Alisa Mullins