American-owned company B&K Universal profits from breeding mice, guinea pigs, and dogs to be sold to laboratories and experimented on. When B&K set its sights on opening a new dog-breeding facility in Grimston, on the eastern coast of England, that would breed and sell more than 1,000 dogs every year to laboratories, the local council solidly rejected the proposal. But central government officials overturned its rejection, and now PETA U.K. is working hard to help Grimston keep B&K out.
RT if you agree with these protesters that breeding dogs to be sent off to laboratories is WRONG #EndAnimalTesting pic.twitter.com/Xl0N3xBRdD

— PETA UK (@PETAUK) June 10, 2016
Nearly 50,000 PETA U.K. supporters signed a petition asking Home Secretary Theresa May to deny B&K's license application. Several of them, wearing dog masks and prison jumpsuits, hand-delivered it to her. They pointed out that at the breeding center, mother dogs would be permanently confined to sterile, windowless prisons and forced to churn out litter after litter every year. Their puppies would then be shipped off to laboratories, where they would be subjected to all kinds of painful procedures, such as being forced to inhale highly concentrated pesticides, given heart attacks, or exposed to toxic chemicals, after which they would be killed and dissected.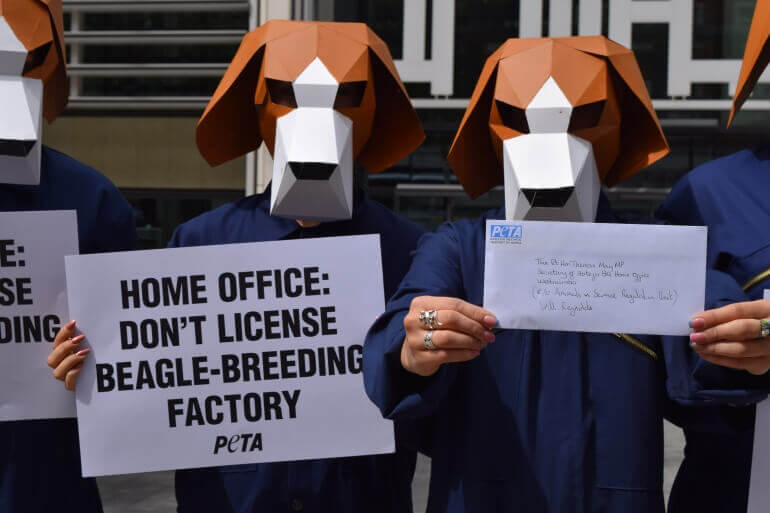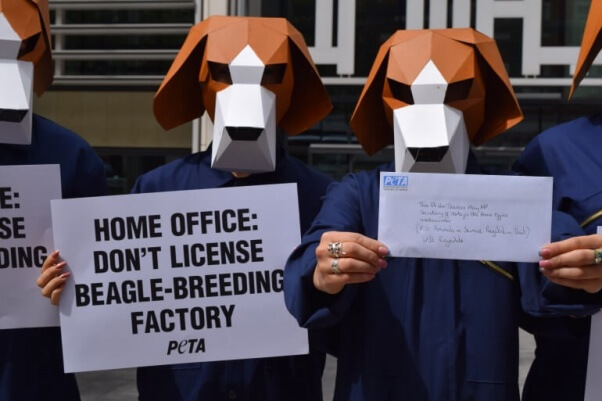 PETA U.K. and its supporters will continue their efforts to stop B&K from building its breeding center, and PETA entities worldwide will keep working to get dogs and all animals out of laboratories.