Victory! Starting in 2020, the European fashion chain Breuninger will no longer sell fur. The company, founded in Stuttgart, Germany, made the exciting announcement earlier this month. All 11 Breuninger stores, as well as the company's online catalog, will go completely fur-free. Johanna Fuoß, PETA Germany's campaigner for animals in the clothing industry, celebrated the pioneering decision:
Today's luxury customers don't want anything to do with the cruel fur industry. Breuninger has now recognized this. We congratulate the management for this compassionate, animal-friendly decision. One thing is clear: Only fashion that doesn't involve cruelty to animals has a future—and Breuninger agrees.
For 10 years, PETA Germany worked tirelessly to persuade Breuninger to banish fur from its shelves. Compassionate people took to the streets, using eye-catching visuals to alert the public to the many ways in which animals suffer in the fashion industry. Protesters wore fox masks, dressed as grim reapers, climbed into coffins, and were even "skinned" in an effort to inform consumers about the suffering that animals endure in the fur industry.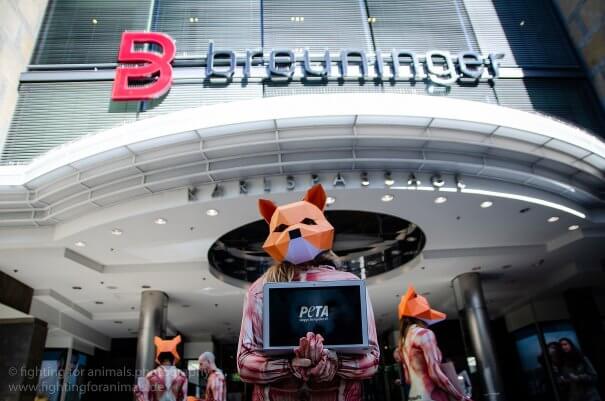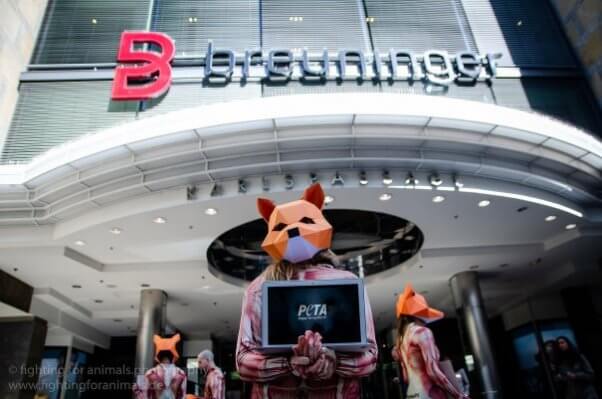 Animals on fur farms spend their entire lives inside crowded, filthy cages. In the end, they're beaten to death, gassed, or anally electrocuted. Their fur is sometimes torn off while they're still alive. Others are bred to grow to an enormous and unhealthy size, just so their pelts will fetch more money after they're killed and skinned. PETA's motto reads, in part, that "animals are not ours to wear."
Until 2020, Breuninger will still sell numerous items with fur, including Canada Goose jackets lined with fur trim from coyotes whose legs were likely crushed and whose flesh was torn open by steel traps, in which they languished for days before being killed. PETA urges customers not to buy Canada Goose products. Refuse to support cruelty to animals with your purchases and style choices.