I should have known better. After all, I do work for the PETA Foundation, so I'm always hearing about seedy roadside zoos. But the advertisements for the Suncoast Primate Sanctuary (SPS), located near my home in Florida, seemed so … legitimate.
The facility bills itself as a sanctuary for primates who were rescued from laboratories, the entertainment industry, unlicensed owners, and the like. Sounds great, right? So one Saturday, I decided to check it out, partly to reassure myself that the animals were well cared for and partly to see if there was anything that I needed to report to my colleagues in the PETA Foundation's Captive Animal Law Enforcement Division. I figured I might find a few dingy water bowls or a broken swing. I wish that was all I had to report.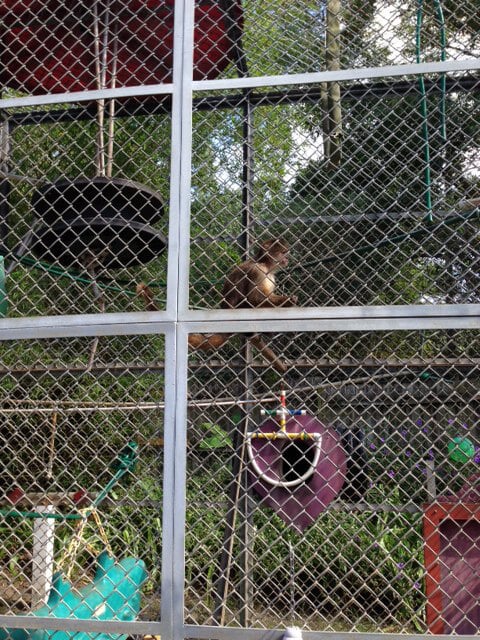 What I actually saw were primates locked in small cages with chain-link walls and concrete floors. They had some toys and a few had hammocks to sleep in, but that was all the enrichment that was afforded these intelligent and inquisitive animals. Even though primates need the company and companionship of others, many were caged completely alone, able to see but never to have contact with other animals. They had no access to grass, trees, leaves, or anything else that might cause their cages to resemble a natural environment.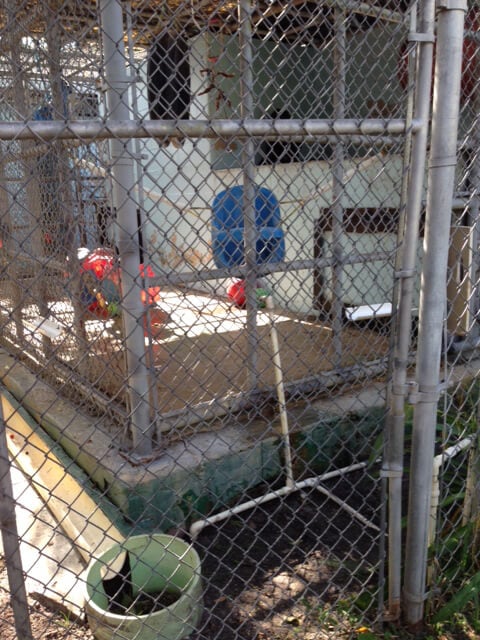 Visitors were allowed to feed the animals dry chunks of food that looked and smelled like (and may very well have been) dog food. They could put the food in a plastic tube that carried it into the cage and dumped it on the floor, or they could throw the food at the animals through the fencing.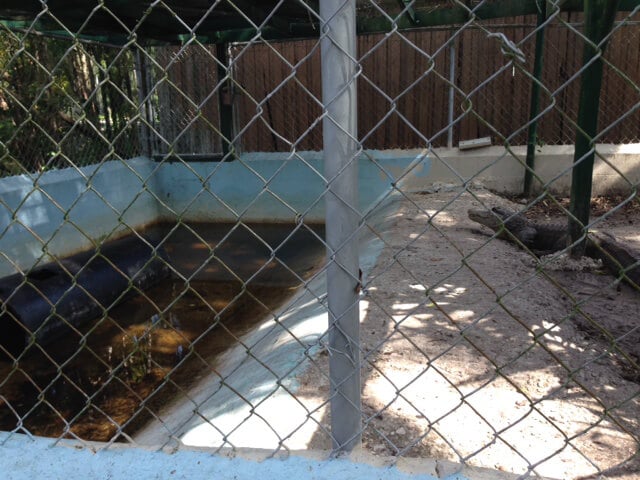 SPS also has alligators and turtles on the property, and I had to wonder why a primate sanctuary would have captive alligators and turtles. The large adult alligator was housed alone in a concrete enclosure half filled with dirt and half filled with filthy water that looked no more than 6 inches deep. The alligator's feet were hugely swollen, a possible sign of friction burns, nutritional deficiency, or infection.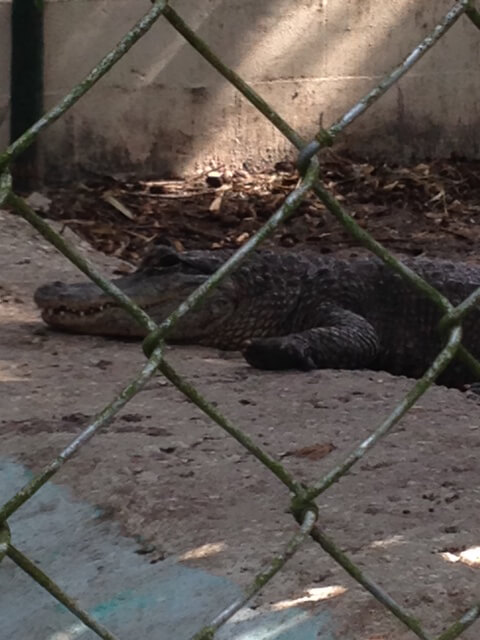 The group of tiny alligators and turtles had a similar enclosure that was merely a dirt patch and a shallow, squalid pool. The baby alligators were forced to take turns having their jaws duct-taped shut and being held by a staff member at the front gate so that visitors could pose for pictures with them. The staff member assured me that it "doesn't hurt at all" when they rip the tape off the babies' jaws. I thought that if she were in the alligators' shoes, she might feel differently.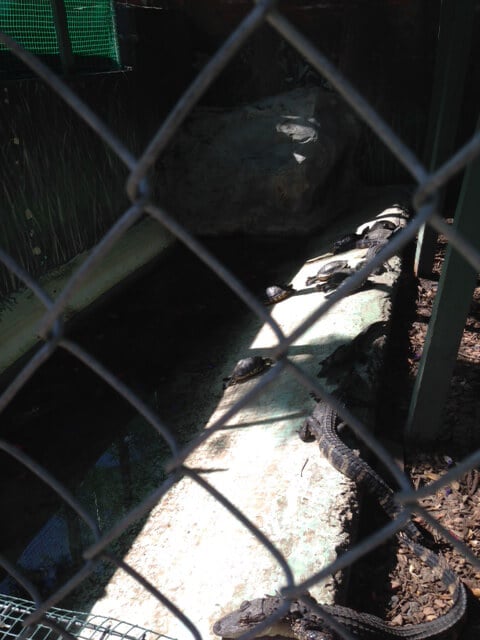 When I sent all my findings to my coworkers, they were quick to respond and let me know that the "sanctuary" had actually originally been called the Chimp Farm, a facility that PETA had filed numerous complaints against. The roadside zoo started decades ago when the prior owners needed a winter home for their traveling act, which included dancing bears and boxing chimpanzees.
The U.S. Department of Agriculture had repeatedly fined the Chimp Farm before finally revoking its license, which is extremely rare. Yet inexplicably, the owners' daughter was able to reopen the facility, branding it as a "sanctuary" with a shiny new image but still with horrific conditions. In 2010, the facility had to pay a fine to settle an Animal Welfare Act violation after a chimpanzee escaped his enclosure and attacked and severely injured a volunteer. The police officer who responded to the call reported that workers were "intentionally deceptive and evasive" and that they would not allow the officer inside for more than an hour.
There are true sanctuaries that do exactly what they say they do. The Suncoast Primate Sanctuary is not one of them. And with countless impostors in operation, it's easy to get confused. I felt foolish for not checking with PETA about this decrepit roadside zoo before I gave it my money. I will never make that mistake again, and I hope I can help prevent other people from doing the same thing.
What You Can Do
Before visiting a sanctuary or making a donation, check to see if it is accredited by the Global Federation of Animal Sanctuaries (GFAS). GFAS requires member sanctuaries to observe a strict code of ethics and far exceed the minimum standards of the federal Animal Welfare Act. Sanctuaries accredited by GFAS allow rescued exotic animals to live out the rest of their lives in peaceful, spacious, natural habitats, and they never breed or sell animals.