Beneath the Surface: Killer Whales, SeaWorld, and the Truth Beyond 'Blackfish' is a firsthand account of what happens at SeaWorld from an unassailable source: former SeaWorld orca trainer John Hargrove. His career in the industry spanned nearly 20 years, and he was known as one of the most experienced orca trainers in the world. The book, which is co-written by Howard Chua-Eoan, is filled with eyewitness details that are simply irrefutable.
In an exclusive interview with PETA, Hargrove details numerous serious incidents involving orca bites and aggression that the public never saw or heard about and how SeaWorld's corporate mindset is focused solely on bringing more people through the gates and increasing profits.
Numerous trainers have sued SeaWorld for negligence following near-fatal incidents involving orcas. SeaWorld has enforced a gag order with most who have tried to speak out.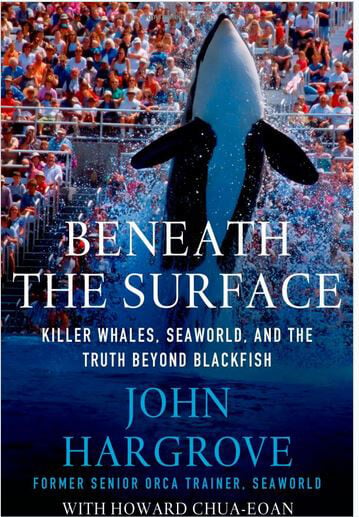 After Tilikum killed trainer Dawn Brancheau, the corporation went to extraordinary lengths to spin the incident, including making one of their "leading experts" a guy who had never worked with Tilikum or reviewed any of the documents pertaining to the death. Yet he blamed it all on Dawn. The guy hadn't even worked at SeaWorld (or with any orcas) in years. After his testimony, he was rehired as a SeaWorld vice president.
Hargrove poignantly describes the corporation's routine separation of mothers and their calves, including two who "star" in a SeaWorld ad campaign: Takara and her calf Kohana. Kohana was moved to SeaWorld's partner park in Spain, Loro Parque, when she was just a baby. Orcas are inbred among family members, including Taku, who was bred with his mother, Katina, and Takara, who was bred with her uncle Keto.
The whales and Hargrove's interactions with them are the heart of the book. Hargrove describes in gut-wrenching detail how bored the whales are and the things they do to cope, including eating paint, gnawing on anything they can, ingesting filter sand, and "raking" less aggressive orcas. Many of the orcas regurgitate their food just to have something to do.
Hargrove says that withholding food for noncompliant behavior—sometimes up to two-thirds of what orcas would get in a day—is standard practice, even though that's not SeaWorld's "official" position.
As Hargrove's journey evolved, he realized that orcas at SeaWorld are nothing more than prisoners, and he eventually participated in the documentary Blackfish and wrote this must-read book.
What You Can Do
Buy Beneath the Surface: Killer Whales, SeaWorld, and the Truth Beyond 'Blackfish.'