Nobody was prepared for the carnage in Barcelona on July 31: Dead, injured, and maimed pigs were left strewn along the AP-7 highway after the transport truck carrying them crashed at high speed. Wounded and bloodied survivors were filmed dragging themselves along the road, confused and desperate for escape.
The transport truck caught fire, and the highway was shut down as emergency crews scrambled to make sense of the chaos. Although Barcelona may have moved on, we must remember the victims of this crash, who endured needless trauma because humans treated them as objects.
View this post on Instagram
Barcelona's Wreck Wasn't Unusual
Crashes involving animal-transport vehicles aren't rare: In 2023, over 30 such wrecks, most often with fatal consequences, have been reported so far in the U.S. alone, and the actual number is likely much higher. In the wake of this horrific disaster, PETA U.K. is requesting that a roadside memorial be erected in remembrance of the many victims. The tribute would feature an image of a pig next to the words "In memory of the pigs who suffered and died in a truck accident at this spot. … Try vegan."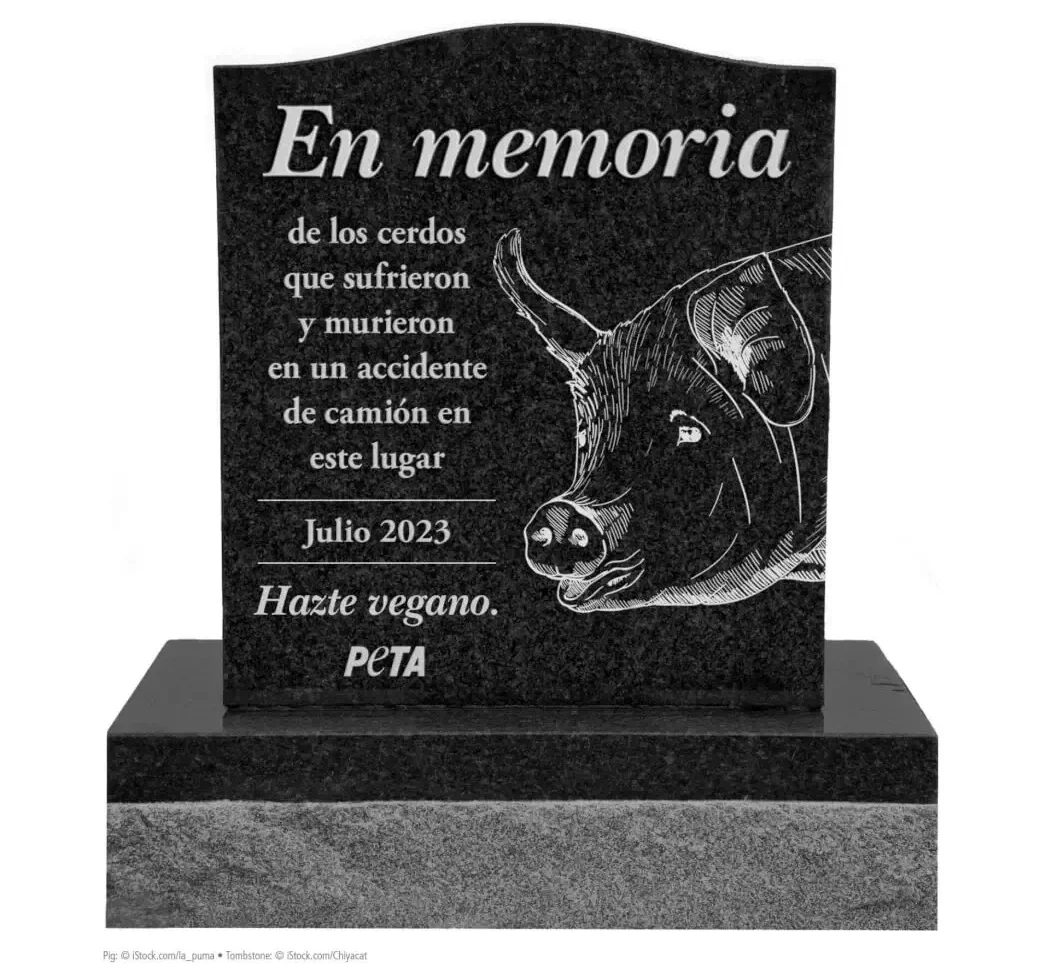 The call to go vegan comes as a practical suggestion that would help everyone. Each person who goes vegan helps prevent other animals from meeting a similar fate. The pigs involved in this crash—intelligent, sentient individuals who deserved rights and consideration—were being transported just to feed human cravings for their flesh. They were packed into a hellish transport truck with no regard for their safety in the event of an accident. And before that, they endured abuse and exploitation at the hands of workers who confined them to cramped pens and deprived them of everything that was important and meaningful to them.
Hold the Suffering—Go Vegan!
By leaving animals' flesh off our plates, we can spare them the horrors of transport (estimated to kill 20 million farmed animals every year in the U.S.) and the misery they're forced to endure on farms before they ever see a carrier truck. A single person can save nearly 200 animals a year just by going vegan.
If you're interested in going vegan, you're not alone. PETA's got your back with our free vegan starter kit packed with recipes and vital tips, from eating out to health information: