We at PETA agree with the words of the late Whitney Houston:
I believe the children are our future
Teach them well and let them lead the way
PETA President Ingrid E. Newkirk found herself surrounded by children who represent the future of animal rights during the latest engagement of her series The Naked Truth in Atlanta. They were smiling in their PETA T-shirts, so someone has clearly taught them well!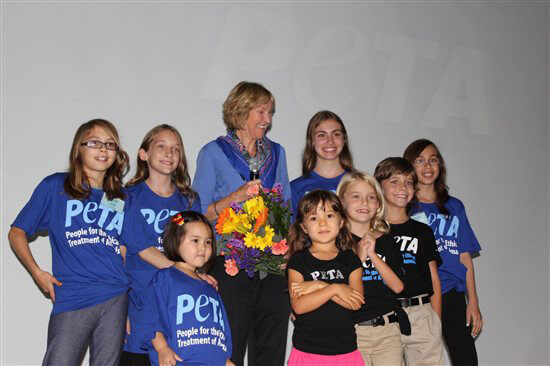 Ingrid delivered a special address to the attendees at the Atlanta History Center, explaining how the animal rights movement must reach beyond pelts and "pets" to persuade people to view all animals as fellow citizens worthy of respect.
Following her presentation, she answered questions from the audience in a session hosted by celebrated Atlanta gospel artist and PETA pal DeWayne Woods, who also shared his musical gifts with the crowd, singing a song of hope for animals. Big thanks go out to Anna Ware, Julie Robertson, and Sarah Segal for organizing the event.
More engagements are planned throughout 2013, so don't miss the chance to hear "the naked truth" about animal rights directly from PETA's "radical-at-large" when she comes to your area. And if you can't make it out, don't worry—PETA can deliver information and inspiration right to your browser 24/7!