In a compassionate move to help all animals, a recent decision by a New York animal shelter has grabbed headlines and started an important conversation. Staff and volunteers of the shelter were reportedly advised in an internal e-mail to stop wearing fur-trimmed Canada Goose jackets to shelter functions after a growing number of people began pointing out the blatant cruelty and hypocrisy of self-professed animal advocates who were choosing to wear the real fur of canines who had been trapped, bludgeoned, and skinned.
It's time for all animal shelters to enact similar policies.
Wild coyotes used for their fur are caught in steel leg clamps, head-crushing traps, body-gripping traps, or neck snares. Often, they're mothers who are desperate to get back to their starving pups. Once caught, these animals can spend days suffering. Some—especially the mothers—even attempt to chew off their own limbs to escape. Their slow deaths can be the result of blood loss, shock, dehydration, frostbite, gangrene, or attacks by predators.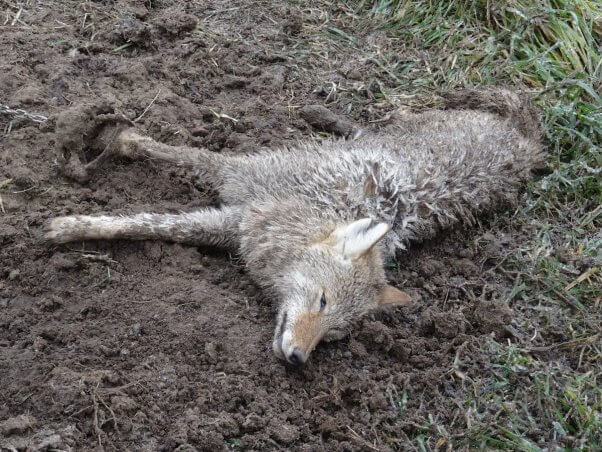 ©Born Free USA
This suffering is sewn into every Canada Goose jacket or other garment containing fur. It's no wonder that people who care about dogs don't want dead dogs' fur blowing in their faces when they attend an adoption event.
According to reports, the e-mail warning came after video footage of protesters confronting Canada Goose–clad volunteers from another shelter began to spread on Facebook. Viewed over 100,000 times, the clip (which is included below) shows multiple employees and volunteers of another New York animal shelter wearing the fur of dead canines while standing mere feet away from cages holding dogs who were up for adoption. Watch now:
https://www.facebook.com/100010743818931/videos/550687465299376/
Killing a coyote to wear his or her fur is no different than killing a golden retriever.
If you wouldn't wear the dead body parts of your dog, there's no excuse for wearing those of any other animal. It's time to start agitating: Asking uncomfortable questions and pointing out the obvious reality of animal suffering is how we'll make progress for animals everywhere. This story is just one example of the way activism opens people's eyes and helps them make connections.
If you want to help coyotes (and birds) who suffer and die in the production of Canada Goose garments, take action now: