Notorious animal abuser Doug Terranova may not work for peanuts, but the $25,000 fine that he was recently slapped with by the U.S. Department of Agriculture (USDA) for violating the federal Animal Welfare Act has to have put a dent in his bank account.
Terranova's Sordid History
PETA has been keeping tabs on Terranova—who rents animals to circuses, fairs, TV shows, and movies like Spy Kids 2 and Rushmore—for years and has filed multiple complaints about his careless handling of elephants and tigers.
In one incident, an elephant named Kamba, whom Terranova had rented to a circus in Oklahoma, escaped and ran onto the highway, where she was hit by a vehicle and sustained several injuries, including a fractured carpal bone, a broken tusk, and numerous abrasions. The USDA confiscated a tiger cub from Terranova after two other tiger cubs died in his care at the Iowa State Fair.
The USDA has stipulated that when Terranova's license comes up for renewal, it will be renewed only if he no longer owns, handles, or exhibits elephants. In the meantime, Terranova is still on the road and will be performing with the Shrine Circus.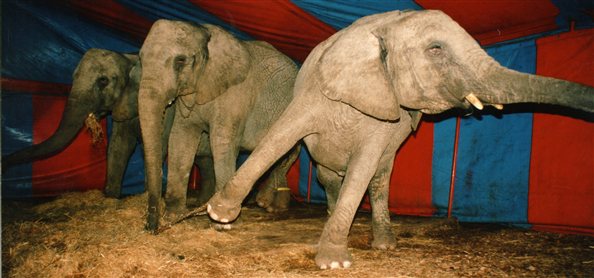 How You Can Help Abused Animals
Boycott the Shrine Circus, and ask your local Shriners to stop sponsoring animal acts.