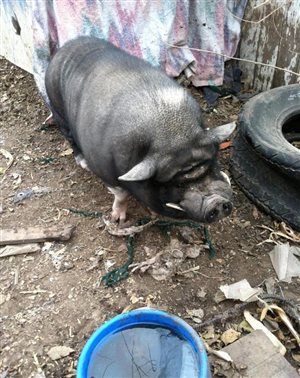 PETA was called to the rescue after local law-enforcement officers declined to act on the cries of a concerned citizen. A compassionate Nebraskan had been feeding and watering this pot-bellied pig after the animal's owner had moved away, abandoning the pig in the muddy, trash-strewn pen, without any shelter from the cold winter winds.
The owner claimed he was simply between homes and intended to eventually take the pig to his new apartment. After receiving no response from the owner or local law enforcement, the caregiver called PETA. A cruelty caseworker worked with the caller and the Sheriff's Department and finally uncovered the truth: The man was unable to take the pig to his new place. He finally agreed to surrender the animal when faced with the possibility of abandonment charges.
Now, thanks to the refusal of one person to take "No" for an answer, the formerly forsaken piggy is living with a family in the country, surrounded by plenty of other animals.
What You Can Do for Animals in Trouble
Please, if you ever see an animal in trouble, notify your local authorities—and if they won't help, contact PETA.