REWARD! Tony Award–winning actor Alan Cumming continues to be an avid animal advocate, doubling PETA's reward—raising it as high as $20,000—for information leading to the discovery of the whereabouts of Tonka, the missing chimpanzee who appeared alongside him in the 1997 film Buddy.
Tonka is one of the chimpanzees who were to be rescued from the misleadingly named Missouri Primate Foundation (MPF), a former breeding compound for chimpanzees used in the entertainment industry and sold into the pet trade. After PETA sued under the Endangered Species Act, a court consent decree among PETA, MPF operator Connie Casey, and exotic-animal broker Tonia Haddix, to whom Casey had transferred ownership of the animals, ordered that the seven remaining chimpanzees be transferred to an accredited sanctuary. But when PETA arrived in July 2021 to move them from their cages, he was missing. Haddix claimed—without any solid evidence—that he had died.
In January 2022, a judge acknowledged that a mystery surrounds Tonka's disappearance and found that Haddix's testimony and various stories weren't credible, leaving PETA to try to determine his whereabouts or perhaps his final resting place.
"During the months we filmed together, baby Tonka and I became good friends, playing and grooming each other and just generally larking about," says Cumming. "It's horrible to think he might be in a cage in a dark basement somewhere or have met some other fate, so I'm appealing to whoever knows what has become of him to please come forward claim the reward."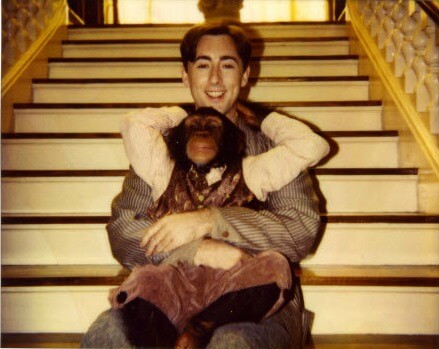 "If you know where Tonka may have been shipped, sold, or hidden away, PETA wants to hear from you," says PETA Foundation Deputy General Counsel for Captive Animal Law Enforcement Brittany Peet. "If he's still alive, he deserves to live out the rest of his days surrounded by chimpanzee friends in a lush sanctuary, as ordered by the court, and there may be someone out there who can help PETA get him there."
The eight chimpanzees PETA rescued from MPF are now thriving in spacious sanctuaries, where a home is waiting for Tonka—who would be the 20th chimpanzee PETA has rescued from roadside zoos and private owners since 2013.
Anyone with pertinent information should call 757-622-PETA (7382) or submit their tips below.