PETA just placed its adorable pro-pig billboard near the convention center in Québec, where pork-industry representatives are gathering for Le Porc Show ("The Pork Show").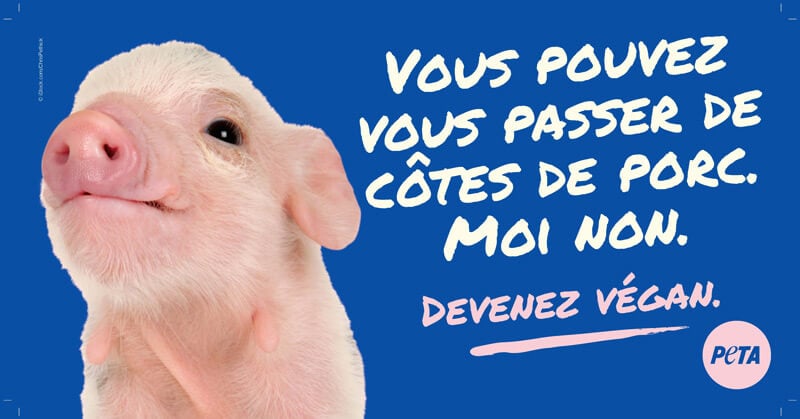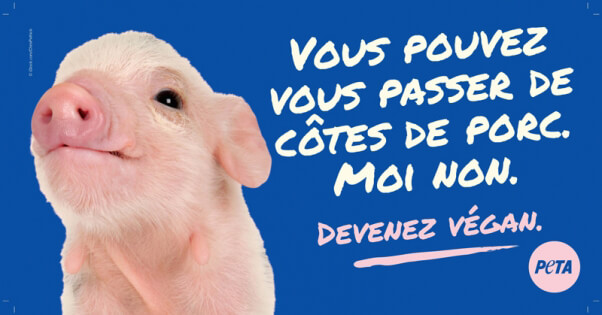 The ad will remind people that every neatly wrapped pork chop and rack of ribs at the supermarket contains the flesh of smart, sensitive, and inquisitive animals who had the capacity to feel pain, just as humans do, and don't want to die. When they're not being confined to filthy factory farms, pigs will spend hours playing, sunbathing, and exploring. People who run animal sanctuaries often report that pigs, like humans, enjoy listening to music, playing with soccer balls, and getting massages. They also enjoy snuggling with one another and prefer to sleep nose to nose.
But most pigs who are raised for food are confined to filthy warehouses and are denied everything that's natural and important to them. They also have parts of their tails hacked off, their teeth are cut, and male piglets are castrated—often without any painkillers. The best way to help pigs and other animals who are killed for food is by simply going vegan.